Things You'll Need
12 inch by 18 inch construction paper or newspaper

Glue

Hole punch

18 inch elastic band

Flower, feather or both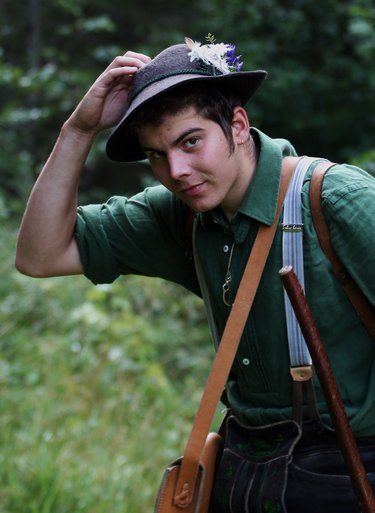 Lederhosen, Oktoberfest and the edelweiss hat are symbols of German culture that many Americans would recognize, but they all originated in Bavaria, a region in southern Germany. Oktoberfest started in Munich, the capital of Bavaria, in 1810 to celebrate a royal wedding. It has since developed into an international fall celebration of Bavarian culture and especially beer. The edelweiss hat is part of the traditional Bavarian costume for men, and you can easily make one out of paper for your own Oktoberfest celebration.
Step 1
Fold the construction paper in half lengthwise so you have a rectangle with sides of 12 and 9 inches.
Step 2
Place the rectangle so the folded edge is on top.
Step 3
Fold down both top corners of the rectangle, leaving a base of two to three inches below the bottom of the corner.
Step 4
Fold up the bottom base on each side outside the corner fold to make the brim of the hat.
Step 5
Glue all the folds in place and let your hat dry.
Step 6
Punch holes on either side of the hat brim.
Step 7
Thread the elastic through the holes and tie a knot in each end to make a chinstrap.
Step 8
Decorate your hat with a flower, a feather or one of each.
Tip
If you only need your hat to last for a day or two, you don't have to glue the folds down.