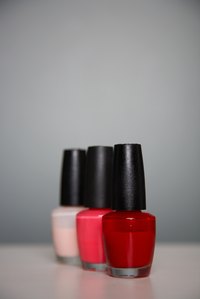 If you have a growing collection of nail polish bottles, you may need a way to properly organize the colors. Consider making your own nail polish display using an old shoebox and a few other materials. This can save costs over purchasing a premade organizer from a container store, where like items can sometimes be costly. Designing your own display gives you the option to customize the display case, creating a look that is completely unique to you.
Things You'll Need
Shoebox
Ruler
Cardboard
Scissors
Find an empty shoebox to use for the project. Measure the depth of the box as well as the width.
Cut three rectangle pieces from a spare piece of cardboard. Make each piece is as wide as the deep shoebox measurement and as long as the width measurement.
Insert each rectangle piece into the shoebox, spacing them equally apart to make shelves. Reinforce in place using a line of craft glue at the end of each shelf and let dry.
Paint the outside of the box using an acrylic paint in a color of your choice. Let dry.
Prop the box up on your vanity so the shelves are horizontal. Line up bottles of nail polish on each shelf in the display so you can easily see each color.