Things You'll Need
Tights (old or new)

Thread

Scissors

Sewing machine or fabric glue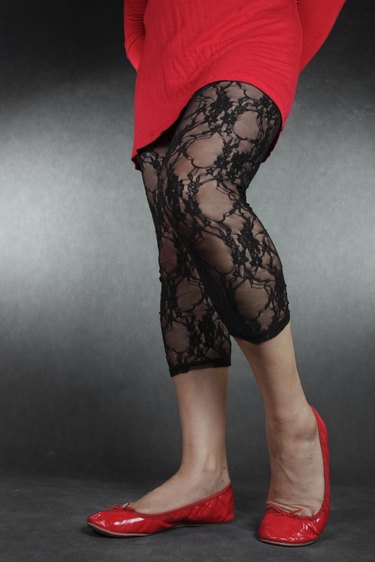 Tights are a versatile style accessory when the weather is cooler, but repeated washing and wearing can take a toll on the color and stretch holes in the toes. Instead of throwing them out, you can give new life to old tights and re-purpose them for a variety of new uses. Snip a pair at the ankle, for example, and create a new pair of leggings, which are equally versatile and, when worn under shorts or skirts, create a look that's appropriate any time of the year.
Step 1
Wash the tights and allow them to air dry. Spread out the newly laundered tights on a flat surface, front-side up, with the feet pointing toward you.
Step 2
Fold the tights in half longways so the two hips meet and the toe and heels of both sides match. This ensures that your leggings will be the same length down both legs.
Step 3
Cut off the feet with your scissors, slicing a straight line that's perpendicular to the legs, just above the heel.
Step 4
Tuck the raw edge of each leg opening under itself 1/4- to 1/2-inch, and then fold the edge under itself a second time. Pin the hem in place.
Step 5
Sew the hem with your sewing machine, using either double needles or a zig-zag stitch to allow for stretch. For a no-sew alternative method, use fabric glue to secure the hem against itself.
Tip
Lace, rick-rack, fringe, ribbon and other types of trim add extra detail and extend the length of leggings that are too short. Pin the embellishment in place after you've made the second fold to the ends of the legs so the decoration is affixed when the hem is sewn.
Alternatively, instead of folding and creating a clean hem, sew a zig-zag stitch along the bottom of your cut. This creates a fun ruffle along the bottom while also protecting against unraveling.
Nail polish will also help keep the ends of your new leggings from unraveling, although the hard edge it creates may lay uncomfortably around your ankle.
Warning
Thicker tights work best when converting into leggings. Particularly thin tights -- like those that resemble panty hose -- may be too fragile or become damaged when hemmed.