Things You'll Need
Cardboard box

Scissors

X-Acto knife

Paint

Markers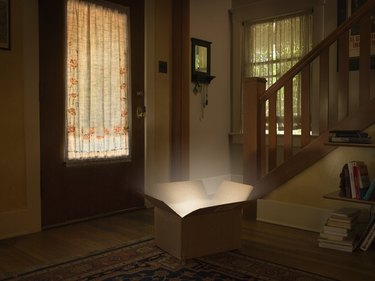 Kids have been making TVs out of cardboard boxes since before anyone had ever heard of a flatscreen, LCD or even cable TV. Its a simple project that allows children to create their own entertainment (in the form of puppet performances or something similar) to fill in the cardboard TV. According to Education.com, "when...[children are] in charge of the design, the programming, and the technology, it's hard to see television as anything but educational."
Step 1
Set a large cardboard box on its side. The side with the open flaps should be facing away from you.
Step 2
Carve out a square opening (the TV screen) with an X-Acto knife in the closed side. Leave some cardboard around the edges so that it looks like the front of a TV.
Step 3
Paint the entirety of the box black or dark gray. Alternatively, you could color it in with markers or crayons. Let it dry for an hour if you use paint.
Step 4
Use the discarded portion of the screen to cut out an antenna. Cut flaps at the bottom of this piece and glue them to the top of the box.
Step 5
Cut out a few dials or buttons from the extra cardboard. Glue them on the front below the screen.
Step 6
Attach some Saran wrap to the inside of the front. Glue each corner inside the box so that the wrap covers up the open portion of the box where the screen would be located on a TV.
Tip
Instead of Saran wrap, you could substitute a roll of poster paper to draw "shows" on.