Things You'll Need
Skirt and blouse or dress

Thick pantyhose

Birdseed, Styrofoam filling or batting

Air-dry modeling clay

Pink acrylic craft paint

Stick-on hook-and-loop fastener

Cardigan or shawl

Thick, baggy pantyhose

Large, black purse

Old-fashioned hat

Glasses

Gray or white wig

Walking stick

Crop top (optional)

Shorts (optional)

White socks and sneakers (optional)

Tray of shot glasses (optional)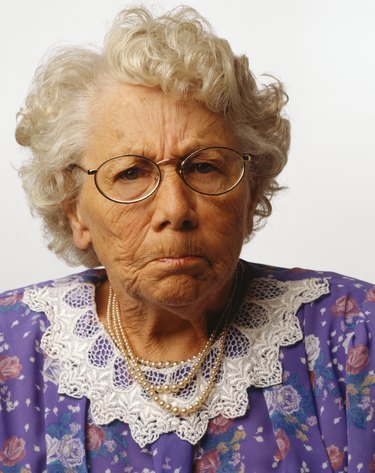 An old lady costume with sagging boobs is definitely one for the adults, and is particularly entertaining when worn by a man. Decide whether to hide the boobs under some old "granny-style" clothing, or let it all hang out and have them dangling down from under a crop top. Either way, this costume is sure to raise some laughs ... and some eyebrows.
Step 1
Make the fake boobs by filling the toe ends of a pair of thick pantyhose with birdseed, Styrofoam filling or batting. Make them as oversized and droopy as possible. Make nipples from air-dry modeling clay. Paint the nipples pink with acrylic craft paint and attach them in place with stick-on hook-and-loop fastener. Place them around your neck so they hang in position. Use bra straps to help hold them in place, but have them hanging outside the bra.
Step 2
Wear a baggy old-fashioned dress, or a blouse and skirt. Add a loose cardigan or shawl over the top. Use a belt to cinch in the waist and accentuate the boobs.
Step 3
Wear thick, wrinkled pantyhose and sensible granny-style shoes. Buy a white or gray wig from a costume store, and top it off with an old-fashioned hat.
Step 4
Accessorize with glasses and a string of pearl beads. Carry a walking stick and a large black purse. Walk with a bent-over stoop.
Step 5
As an alternative if you are feeling daring, dress as an over-the-hill sexy waitress. Wear a crop top and shorts with your sagging boobs dangling down below the crop top. Add the wig and glasses. Wear white socks and sneakers and carry a tray of shot glasses.