Things You'll Need
Tight-fitting T-shirt

Pair of underwear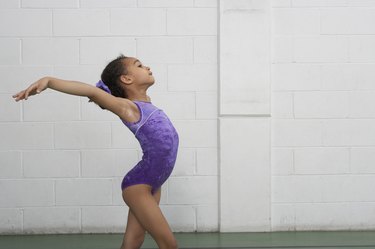 Leotards are simple yet multi-functional garments that children often wear for gymnastics and in Halloween costumes. If you need a basic leotard to complete your costume, or for any other reason, you do not necessarily need to go out to the store and buy one. You can construct your own leotard from a matching T-shirt and pair of underwear. Another benefit of this option is that you can customize the fit of your leotard to suit you perfectly.
Step 1
Select a matching T-shirt and pair of underwear to use for your leotard. The T-shirt should be tight-fitting but comfortable and the sleeves should not be too wide or baggy. The underwear should be hi-cut or brief-style.
Step 2
Remove the elastic waistband from the underwear with a pair of sharp scissors. You may also choose to trim away the bottom hem from the T-shirt.
Step 3
Turn the T-shirt inside out and place the underwear inside it, aligning the top edge of the underwear with the bottom edge of the T-shirt. Pin the sides together all the way around.
Step 4
Adjust the T-shirt, if necessary so that the circumference around the bottom of the shirt is the same as that around the underwear. If you need to make adjustments, simply overlap small portions of the T-shirt bottom to reduce the size and pin it to the underwear.
Step 5
Sew through both thicknesses of fabric on a sewing machine using a 1/2-inch seam allowance. Remove the pins as you sew and keep an eye out to be sure the edges of both items are always aligned.
Step 6
Turn the leotard completely inside out and press the seams flat with an iron. Once you are finished, your leotard will be ready to wear.
Tip
If you cannot find a T-shirt and pair of underwear that are closely matched in color, simply dye a pair of white underwear and a white T-shirt. You can find fabric dye at your local craft supply store and by dying both items at the same time you can guarantee a close color match.
If you cannot find a tight-fitting T-shirt that will match up with the circumference around the pair of underwear you can make additional adjustments. Deconstruct the T-shirt by undoing the side seams up to the arm hole, trim away some of the excess fabric then sew the side seams back together.