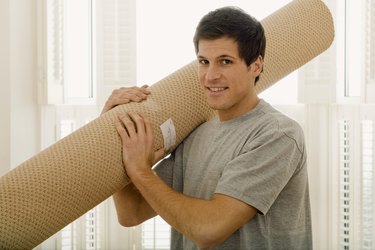 A carpet transition strip is the thin strip of rigid material made of metal or wood that smooths over the transition from carpet to another type of flooring, usually tile, wood, laminate or linoleum. It covers the spot where the two types of flooring meet to stop damage to the floors and prevent people from falling and becoming injured. Installing carpet transition strips is one of the last steps when replacing flooring, but it can be challenging. Typically, they get nailed into the floor, but what happens when the foundation underneath is concrete?
Luckily, it is more than possible to drill into concrete if you use the right tools. You will need a hammer drill along with a 5/32-inch carbide drill bit to drill holes in the concrete for the screws that will hold the transition strip in place. Alternatively, you can use a particular type of strong construction adhesive instead. Remember that this is a precise job. You certainly don't want construction glue leaking from underneath the strip onto your floors, so use a small caulk gun to apply it.
You also need to ensure you use the correct transition strip. There are three main types, and the best one for you depends on your job. The first is a reducer molding used to bridge floors with two different thicknesses. In contrast, the second is a T molding, which bridges floors at the same height. Finally, you have the stair moldings used to transition at the top and bottom of staircases. If you're unsure of which type you need, ask a flooring professional at your local hardware store.
Prepare to Install Transition Strips
First, measure your strips carefully to ensure that they are the correct length for your project. It's an excellent idea to take measurements and bring them with you to the hardware store, where employees can cut the transition strip for you. If you need to make further adjustments, use a miter saw.
Depending on its material, your transition strip may already have holes or spots marked for installing the screws. If not, you'll need to make them yourself. Either way, use a tape measure and carefully mark where you will drill the holes into your concrete with a pencil.
Next, put on protective eyewear and use your hammer drill and carbide drill bit to create holes in your concrete that are wide enough for your screws. Drill about 1.5 inches deep. After you've finished drilling, use a vacuum cleaner to remove any dust and debris. If you leave any debris, it may be stuck under the transition strip for a long time.
Install Your Transition Strips
To begin the actual installation, start by placing the transition strips on top of the space between your two types of flooring. Make sure that you carefully align the holes in the strip over the holes in the concrete. Remember that this is a precise job and any slight misalignment could be particularly noticeable. Use a screwdriver to carefully insert the concrete screws through the transition strip and into the holes you drilled. If anything looks off, now is your last chance to adjust it.
If you're using construction adhesive, apply a thin layer of glue to the floor and another thin layer to the transition strip. Slowly and meticulously put it in place and then apply pressure for about a minute. Cover the transition strip with painter's tape to ensure it doesn't get bumped out of place while the glue dries for at least a full day. Then, remove and discard the tape and your transition strip installation is finished.