Things You'll Need
Flat bed or trailer frame

Softwood lumber

Hammer and nails

Tape measure

Saw

Recreation vehicle fittings

Insulation

Tin roofing

Bolts

Various construction tools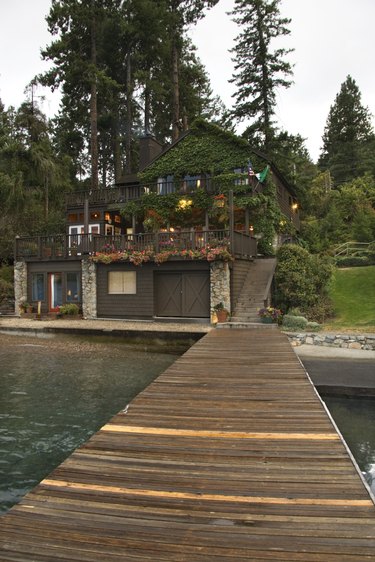 When it comes to building a portable cabin, think small, portable and cute. A portable cabin – sturdier than a tent-trailer and more home-like than a recreation vehicle -- is an option for people who don't want to stay in one place all the time. The cabin could be hauled out to the farm for seeding, moved to the lake for the summer and then used as a hunting shack in the fall. The secret is to build the cabin on a framework – like a flatbed or a trailer frame -- that can easily be moved. The essential element is to keep the building materials as light as possible.
Step 1
Study mobile homes and portable cabins to get an idea of how to get the best use of all available space. Downsize – a table setting for two, rather than six, for instance – wherever possible also requires less cupboard space in the portable cabin.
Step 2
Start with a plan. Draw up a blueprint for the portable cabin. Refer back to the original design frequently to make sure you are staying on track with the building project.
Step 3
Build the portable cabin on a flat bed. A flatbed that can be pulled behind a truck can be up to 8 feet 6 inches wide and 13 feet 6 inches high and is easily moved by hitching it up.
Step 4
Opt for an A-frame design that goes length-ways. This shape lends itself to light weight and portability and is the most easily constructed of all cabin options.
Step 5
Use softwoods – pine, cedar, redwood – rather than hard woods. The difference is the weight. Although softwoods are more susceptible to scratches and dings, a few blemishes add character to a portable cabin.
Step 6
Go for tin roofing. Tin is lighter than shingles, easy to rivet on and more durable. The sound of the rain beating on the tin roof also adds another dimension to your portable cabin.
Step 7
Buy recreation-vehicle fittings. You may decide to opt for a portable toilet, rather than having water and sewer plumber into the cabin. Depending on when and where you are going to use it, this might be a viable option. Also get the lightest insulation you can, to further reduce the weight load.
Step 8
Build a second-story bed with storage space underneath. The sleeping loft may be tiny – but all you do it sleep there – and under the bed is a perfect place to put seldom used, but still essential, items such as life vests or paddles.
Step 9
Bolt the cabin to the flatbed so that it won't shift when it is being moved. Make sure that the cabin is firmly secured.
Step 10
Build entrance stairs that can be stored in the cabin or in the back of a truck while it is being moved. When the cabin is stationary, the stairs can be easily reattached.