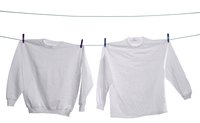 The knit of sweatshirt fabric allows it to be cut without the need to finish the edges with sewing. Transform old and outdated sweatshirts from your closet. Cut the necks off the sweatshirts to give them a feminine appearance with new style. The cut necklines will not ravel or fray, making quick work of reconstructing sweatshirts into new and fashionable wardrobe additions. To make shirts more comfortable for exercise or lounging, cut the necklines off of over-sized sweatshirts.
Things You'll Need
Straight pins
Tailor's chalk
Turn your sweatshirt inside out.
Cut off the ribbed neckline just below the seam. Turn the sweatshirt right side out.
Put on the sweatshirt. Determine how low you want the front neckline of the sweatshirt. Mark the bottom-center of the desire neckline with a straight pin. Determine how wide you want the neckline. Mark the top of each shoulder at the desired width with straight pins. Take off the sweatshirt.
Lay the sweatshirt on your work surface with the front facing up. Using tailor's chalk, draw the shape of the neckline between the pins. Remove the pins. Cut the front of the neckline along the chalk mark. Leave the back of the neckline as is, or cut and shape it as desired.