Knitting a large piece such as an afghan in strips or blocks is a great way to keep your project portable and manageable. As you knit, make sure your gauge stays consistent so your panels will all be the same length. Invest in a knit gauge so you can frequently check the size of your stitches as you knit. This slip stitch seam connects the panels of knitting quickly and securely. It is somewhat more visible than a sewn seam, so it should be done on the back of the panels.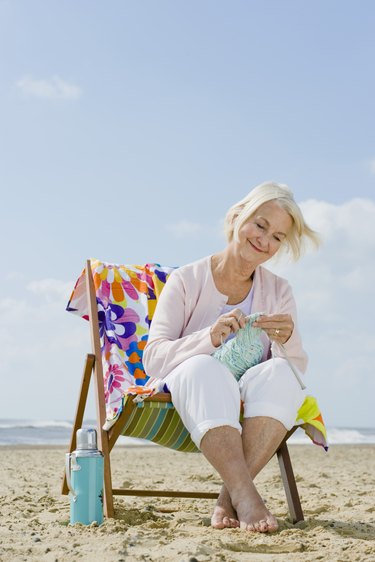 Things You'll Need
Sheet

Yarn Needle

Safety Pins

Spray Bottle

Tape Measure

Steam Iron

Crochet Hook

Blocking Pins

Yarn
Step 1
Block the panels to ensure they are all the same size. Make sure to use a blocking method that is safe for your yarn. To steam block, stretch the panels to the desired size, pin to a flat surface, cover with a damp sheet and iron until the sheet is dry. For most synthetic yarns, it is safest to pin out the panels and spray with water using a spray bottle. With any method, let the panels air dry while pinned before removing.
Step 2
Lay out the panels in the desired order on a flat surface. Line up the top and bottom ends of each panel and safety pin the panels together with the right sides facing at the top, bottom and at several points along the length. Pin together only two panels at a time.
Step 3
Hold the right-hand ends of the two panels together with the right sides facing and the safety pinned end facing you. Make a slip knot in the yarn and slip the head of the crochet hook through it. Hold the crochet hook in your right hand.
Step 4
Insert the crochet hook through two loops at the edge of both panels, from the front. Pull a loop of yarn back through the fabric, and through the loop on your hook. This is one slip stitch.
Step 5
Continue slip stitching from right to left along the length of the seam. Be sure to insert the hook through the stitch at the end of the row each time so that the edges of the panel remain even.
Step 6
Make one chain stitch at the end of the seam by wrapping the yarn around the hook and pulling it through the loop on the hook. Pull this loop until it is several inches long and then cut the loop with scissors. Thread the yarn through the eye of the yarn needle, and weave the loose end into the fabric to prevent it from coming loose as the item is used and washed.
Tip
If your knitted panels are multicolored, choose the main color of yarn to make your seam. A slip stitch seam is not very flexible, so it is better for afghans than clothing.