Things You'll Need
Plastic full face mask, with eyes not cut out

Sheet of cardboard

Pencil

King Tut mask reference photo or image

Scissors

Papier mache glue

Large bowl

Strips of newspaper

Gold spray paint

Acrylic paints in royal blue and red

Small paintbrush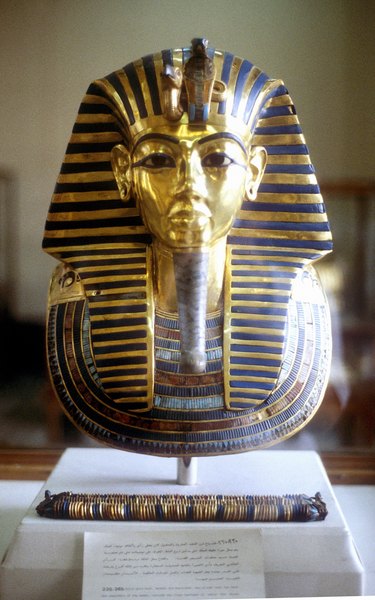 The sightless eyes of a death mask were common on ancient Egyptian tombs for the elite. The masks were considered important as the face they would show on the journey to the afterlife. This was the same for King Tutankhamun, or King Tut, who has one of the most well preserved elaborate masks from ancient times. Using papier mache to replicate the mask is simple and is the perfect project to do with kids when teaching them about the ancient civilization.
Step 1
Place the plastic face mask on the cardboard. Trace out the oval of the mask using the pencil. Referencing the image of the mask, cut out the shape around the top of the mask, about 6 inches all the way around the mask, with two long pieces coming down on each side and joining up with the bottom of the mask.
Step 2
Cut out around the traced edges of the cardboard and the oval where the mask was traced. Discard the excess cardboard. Place the mask back over the area where it was traced.
Step 3
Pour the papier mache glue in the bowl. If needed, add water and stir according to the manufacturer's directions.
Step 4
Attach the mask and the large cardboard sheet using strips of newspaper dipped in the glue, with the excess wiped off with your fingers. Continue covering both the mask and the newspaper with the strips until an even, smooth layer has been created over the entire mask.
Step 5
Allow the mask to dry for 24 hours. Add another layer, if desired, to make the mask more durable. Allow it to dry again.
Step 6
Spray paint the entire mask. Allow it to dry. Using the reference photo, paint on the blue areas of the mask using the blue acrylic paint. Allow them to dry.
Warning
If doing this project with a very young child, cut out the cardboard for them.