Using croissants to make a crust is a delicious alternative that can be used in nearly any pie recipe, whether sweet or savory. Not only is it far easier to make than pastry, but it is even more tasty and requires fewer ingredients.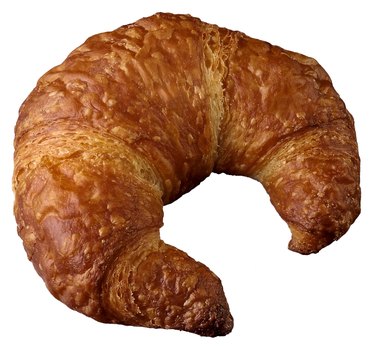 Things You'll Need
Two Egg Yolks

Pie Tin

Pie Filling

Three To Five Croissants
Step 1
Preheat oven to 160 degrees; you do not want it to be too hot because, unlike raw pastry, croissants are already cooked. Grease pie dish thoroughly.
Step 2
Rip croissants into thin shreds lengthwise. Whisk egg yolks together. Dip each piece of croissant into the yolks.
Step 3
Lay the pieces of croissant onto the bottom of pie tin, overlapping them slightly. As you do, press them down, squeezing them gently to mold into a solid base. As they soak up the egg mixture they will become more pliable and easy to mold into a pie base. Build the sides of the pie crust around the edge of the tin by sticking the dipped croissant pieces all the way around the edge, overlapping and pressing them together to make a solid pie crust.
Step 4
Bake the pie crust alone in the oven for ten minutes or until it has just started to harden. When ready, it will have developed a glazed golden texture and will appear crunchy on the outside.
Step 5
Remove the pie crust from the oven using oven gloves. Spoon filling into the pie, adjust oven temperature if needed according to the pie recipe you are using, and bake for about 20 minutes until the whole pie is piping hot. Test the middle with a fork to ensure correct cooking.
Tip
Add cheese and bacon or vegetable fillings to make a quiche-style croissant pie.