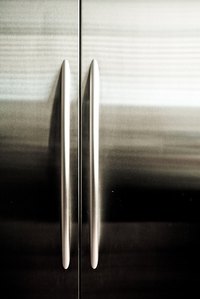 Stainless flatware is durable and long-lasting because it's basically made from iron alloys. It's covered with a protective coating. This type of flatware resists rust and corrosion. It gets its name because it resists stains. However, stainless can become discolored. Drinks such as coffee and tea can discolor it. So can salt, salad dressings, butter, hard water and heat. Simply washing stainless flatware can sometimes clean it if the discolorations are light. If that doesn't work, there are two other methods you can use.
Things You'll Need
Mild dishwashing detergent
Dish cloth
Dish towel
White vinegar or club soda
Clean terry cloths
Stainless steel cleaner
Fill the kitchen sink half-full with hot water. Add a few drops of dishwashing detergent. Swish the water around to create suds.
Wash the stainless flatware one-by-one with a dish cloth in the sink. Rinse it well with clean water. Immediately dry it with a towel.
Wet a terry cloth with a liberal amount of either white vinegar or club soda. Wipe the stainless flatware one-by-one. Clean it to remove the discoloration. Then, wipe it with a clean, dry cloth to restore its shine.
Use a stainless steel cleaner to remove stubborn discolorations. Read and follow the manufacturer's directions and warnings in order to achieve the best results. Basically, you will apply the cleaner to the flatware, then wipe it off.