Things You'll Need
Washing machine safe bleach

Washing machine

Laundry detergent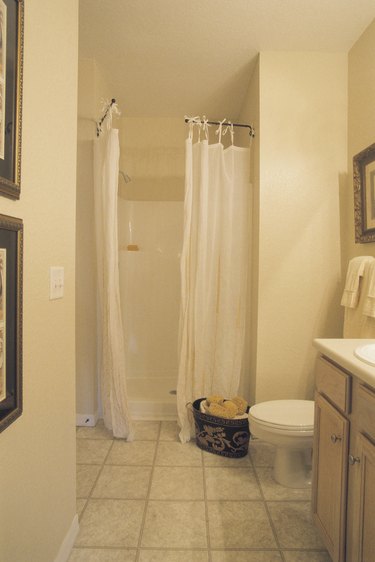 One way to keep a shower curtain looking new is by using a plastic shower curtain liner. Shower curtain liners keep the shower curtain from getting wet, thus preventing mildew and water stains. Shower curtain liners are also much less expensive than shower curtains and can be replaced easily and inexpensively. You don't have to throw out a shower curtain liner when it begins to develop water stains in mildew, however. Save money and time by washing your shower curtain liner in the washing machine with a little bleach.
Step 1
Remove the shower curtain liner from the shower rod by unsnapping the shower curtain hooks and unhooking the liner.
Step 2
Place the shower curtain liner into the washing machine.
Step 3
Pour about 1/2 cup of bleach over the shower curtain liner.
Step 4
Add 1/4 cup of laundry detergent to the load.
Step 5
Set the washing machine on a warm water cycle and start the cycle.
Step 6
Hang the shower curtain liner on a clothes line to dry before rehanging it on the shower curtain rod once the washer has finished running.
Tip
You can add two to three white towels to the washing machine for added scrubbing power.
Warning
Do not put any items of color into the washing machine or let the bleach splash on your clothing.