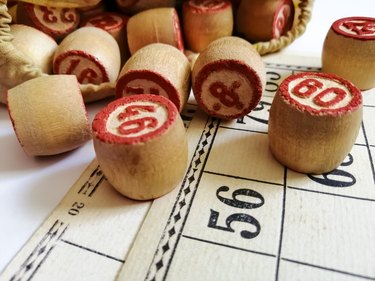 Experts define the word "raffle" as an activity organized to raise funds for a good purpose. Participants buy tickets with different numbers on them, and winners receive prizes ranging from something small, like a potted plant, to a monetary amount to a large prize, like a car. There are many ways to run raffles, and the money raised generally benefits the sponsoring organization.
Different Types of Raffles
Nonprofit groups often rely on in-person or virtual raffles to raise funds. Ways to do this include schools selling tickets to parents through their kids or through an organization sending out tickets that you can purchase by mail. Sometimes, raffles also occur at fundraising events. There are many different kinds of raffles, and one of the most accessible and most popular kinds is the 50/50. This one works best when there are many people in attendance.
With a 50/50 raffle, each ticket sold has two parts with the same number on it, and the tickets come in a roll. When a ticket is purchased, the buyer receives one half, and the other part is torn off and placed with the others. The raffle organization keeps the money together, and when it sells the final ticket, it splits the money in half. One ticket is drawn from the pile, the winner receives half of the money and the rest goes to the organization. It is always best for the organizers to let the audience know how much money they raised and how much they awarded in the raffle.
Other Well-Known Raffle Types
The single raffle is also well known and straightforward. A nonprofit group can ask for a large donation or service by connecting with local companies. Businesses that participate benefit because this builds community partnerships and can help build their brands. You can sell tickets for around $10, but with large items, you'll want to increase that to $25, $50 or more depending on the value of the gift. Have a start and end time to buy tickets and be sure to announce the winner at the event and on social media and websites.
Another kind of raffle is known as "guess the amount," which can have different kinds of prizes as well. You're probably familiar with this type of raffle. A large container could be filled with jellybeans as someone counts how many go in. You should write down this number somewhere safe.
When having this raffle at events like bridal showers, guests don't have to pay to venture their guess, but they should write down the numbers on a piece of paper with their name and hand it in. At a fundraiser, participants can pay per guess; you should reveal the winner with a lot of fanfare toward the end of the event.
More Creative Raffle Ideas
You can use the basic idea of guessing the amount in car raffles too. You could fill the winning prize with balloons and whoever comes closest to guessing the number wins. Another way to give away a car would be to sell keys for a specified price, and the set that fits wins the grand prize.
A Chinese auction is a raffle combined with a silent auction. Individuals, businesses and groups donate gifts, which are then displayed on tables. Each prize has a sheet of paper in front with a starting bid followed by lines where people write their names and bids. After the time limit ends, those with the highest bids win their items. Another way to do this is by selling tickets and having bags or jars in front of each gift. A volunteer then chooses the winning ticket from each.