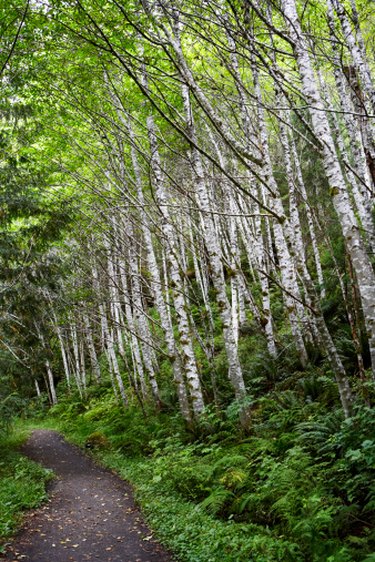 Several species of birch trees grow and thrive in Tennessee. Most of the state's birch tree species grow as native plants found in the wild, but the trees also make great ornamental additions to the garden or landscape.
Yellow Birch
Yellow birch grows in higher elevation areas of eastern Tennessee where abundant precipitation occurs. One of the most valuable native birches, the trees produce a yellowish-bronze bark that comes off in strips from the tree. Wildlife rely on the buds and seeds of yellow birch as an important food source.
Paper Birch
Paper birch grows in the southernmost areas of the state. The tree usually grows for about 25 years during which it's highly susceptible to stress from drought and hot summer temperatures. Stressed trees often experience problems with disease and pests, limiting their lifespan. The tree requires moist soil that drains well and regular watering, especially during the warm months.
River Birch
River birch grows in much of the Southeastern U.S., including Tennessee. You'll find river birch growing near water, including along stream banks, swampy areas and in floodplains. The trees help keep stream bank erosion to a minimum.