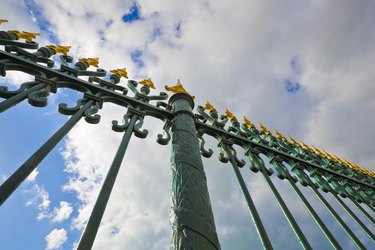 Purchasing a new grill or replacement parts for an old one takes some research and deliberation. All grills are not created equal, and every model has distinct components and features with a different range of pros and cons. One of the most important elements to consider is the type of grates, with cast iron grill grates and porcelain enameled grill grates among the more popular options.
While both serve the same function as the high-heat cooking surface for whatever food you are grilling, they do differ in performance along with cleaning and maintenance requirements. Ultimately, the decision between porcelain enameled cast iron grill grates, regular cast iron grates or another type of grate comes down to the personal preferences of every grill owner.
Characteristics of Cast Iron Grill Grates
Regular cast iron grill grates are made from uncoated, "raw" cast iron, a metal offering excellent heat retention and a naturally nonstick surface when properly seasoned. Cast iron is porous, so it needs to be periodically seasoned by coating it with oil before subjecting it to high heat. This process protects the cast iron grates, prevents rust and creates a slick, nonstick surface.
Cast iron's major benefit is excellent heat retention, which results in satisfying grill marks and requires a lower grill temperature and shorter cooking times than stainless steel. For cooks who are accustomed to stainless steel grills, cooking over cast iron grills might come with a learning curve.
Characteristics of Porcelain Grill Grates
Porcelain grill grates are either cast iron or stainless steel grill grates constructed with a porcelain coating. These types of grates are available with a glossy or matte finish. Porcelain is naturally nonstick and better at heat retention than stainless steel, so it improves that factor compared to regular stainless steel grills. Its heat retention is comparable to cast iron, so the benefits of porcelain enameled cast iron grill grates are easier maintenance and a nonstick surface without the need for seasoning.
Pros and Cons of Seasoning Cast Iron Grates
Just like cast iron skillets and Dutch ovens, cast iron grill grates require a seasoning process before their first use and periodic seasoning thereafter. The grill manufacturer should provide instructions for seasoning cast iron grates, but the general process is to heat the grill to a high heat, apply a thin coating of a high-smoke-point cooking oil over the grate, place the grate on the grill, turn off the heat and allow the whole appliance to cool. You might need to repeat this several times. Periodic seasoning is also required in addition to regular cleaning for cast iron grill grates. Seasoning is never necessary for porcelain enameled cast iron grill grates nor porcelain coated stainless steel.
The benefits of seasoning are protecting the grill from rust and other deterioration, such as flaking or crumbling of the cast iron, and creating a nonstick surface. With prolonged use and proper care, this nonstick surface will improve and become exceptionally slick, making both cooking and cleaning easier. Some cooks find seasoned cast iron grills to provide superior grill marks and flavor. The drawback is the extra time and effort involved in seasoning. For some, this is a deal-breaker.
Even with proper seasoning, cast iron grill grates can still rust and deteriorate if left exposed to the elements. If storing your grill inside isn't feasible, porcelain enameled grill grates might be a better choice.
Metal scraping tools are not recommended for porcelain enameled cast iron grill grates, as they can chip or crack the coating. The coating can also chip or crack if you drop the grates. A damaged coating can lead to rusty spots on the grill grates and can diminish the nonstick properties of the porcelain enamel. This particular risk does not apply to regular cast iron grill grates.