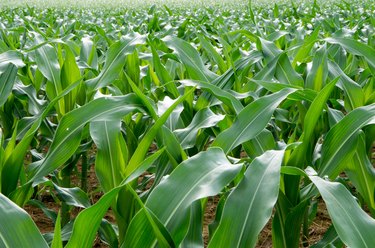 As one of the more common dracaena varieties, the corn plant (Dracaena fragrans, USDA plant hardiness zones 10 to 11) earns its common name from the foliage resembling that of the leaves from a stalk of edible corn. The dracaena is a popular houseplant, but corn plants also grow well planted in the landscape in frost-free climates. Although they are hardy and relatively low-maintenance plants, it's important to water correctly to prevent potential problems.
For potted corn plants, it's best to keep the potting medium moist during the growing season and cut back in winter while the plant is dormant. Although corn plants planted in the landscape are relatively tolerant to drought, regular water applications to keep the soil moist will produce the best growth.
Corn Plant Significant Characteristics
Like all dracaena varieties, corn plants grow year-round outdoors in consistently warm climates that don't experience frosts or freezes. However, they are more commonly seen growing indoors as houseplants. In its native habitat, the African native slowly grows up to 50 feet tall with a spread of up to 10 feet, but when potted and grown indoors, it typically tops out at around 6 feet tall.
Single, spiral rosettes of glossy green leaves top eye-catching bare branches. The weeping foliage grows up to 3 feet long and 5 inches wide, and depending on the cultivar, it is green or sports variegation in yellow or white. Although corn plants rarely bloom when grown indoors, periodically throughout the year, panicles of small, star-shaped flowers bloom. The fragrant flowers start out as pink and change to white, and small red berries follow the spent blooms.
Like many dracaena varieties, there are various cultivars with the major difference among them being the look of the leaves, as they all grow in the same zones and require the same cultural conditions for good growth. For instance, 'Bausei' has a white band down the leaf's center, 'Janet Craig' has solid green leaves and 'Warneckii' foliage has two white stripes.
Proper Corn Plant Water Practices
If you're growing the corn plant in a pot, you'll want to make sure it's housed in a pot with bottom drain holes to prevent overwatering and problems with rot. Indoors, set the pot on a tray of pebbles, and the excess water helps create the needed humidity. Mist several times weekly with water. Water enough to keep the soil evenly moist but not soggy, especially during the growing season. If the top inch of soil feels dry, water until it flows out of the pot's bottom. In fall and winter, reduce the frequency of water to half since the corn plant is dormant, and growth slows.
If you're lucky enough to live in a climate where frosts and freezes aren't common, then you can plant your corn plant directly in the garden or in an above-ground planter. Though they are drought-tolerant, regular applications of water produce the healthiest growth. Depending on local weather conditions, you may have to water several times weekly, especially if conditions are hot and dry.
Identifying and Preventing Watering Problems
Potential problems associated with watering the corn plant show up as brown leaves and leaf tips. Low humidity, underwatering, overwatering and the buildup of salts from fertilizers can all lead to this problem, so you'll need to play detective to figure out which one is the culprit. Avoid the fluoride contained in many municipal water supplies. Water with rainwater, well water or distilled water, irrigating when the top inch of soil feels dry.
Additionally, flush the soil of any buildup of fertilizer salts every few months. Depending on the plant's size, you can take the plant outdoors to the hose or place it in the bathtub and allow fresh water to slowly run through the soil for about five minutes. Allow the water to drain from the soil, empty the pot's bottom catch tray and then bring the corn plant back to its location. Mist indoor plants several times weekly to promote humidity.