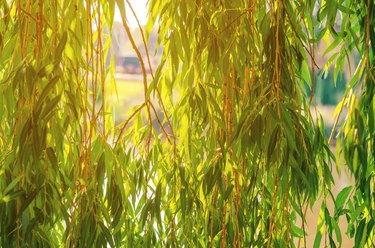 Willow trees (Salix, USDA plant hardiness zones 6-8) belong to the Salix genus, and there are approximately 400 different types of shrubs and trees native to the Northern Hemisphere. The variety is astounding; they range from dwarf willows to the large, familiar weeping willow tree. Many of the trees have elegant, graceful shapes and make lovely landscape garden trees, but can any be successfully grown indoors?
While many willow trees are far too big for the indoors, this is not true for all of the various types. You can grow some smaller ones indoors, like the dwarf weeping willow, but even these are 6 feet tall and 5 feet wide.
Categories of Willow Trees
All willows are deciduous, meaning that they lose all their leaves and turn dormant in the winter. The first category, tree willows, are large with narrow, oval-shaped leaves that taper to points. Some willow shrubs also fit in this category. The best way to identify this group is by the leaves. These shrubs have leaves with edges that are gently serrated, and they have light feather veins. These beautiful specimens are often the first trees to produce leaves in the springtime.
Sallows willows are low shrubs or small trees, and though they also have oval leaves, they are significantly wider. Look for those broader leaves and the toothed edges. Osier or basket willows are tall, narrow shrubs with narrow leaves. These types of willows can grow to be about 23 feet high and have smooth, yellow-green twigs and grayish-brown bark with vertical cracks. This is not a comprehensive list of smaller willows, but these are some of the more common types.
Most Popular Willow Trees
Without question, the weeping willow (Salix babylonica, zones 6-8) is the most recognizable willow tree, with long, dramatically drooping branches that sway elegantly in the wind. It is native to China and can grow 30 to 50 feet tall and wide.
Goat willow or pussy willow (Salix caprea, zones 4-9) is often seen near bodies of water and in the woods. They are shrubby trees that can produce woolly, pinkish-gray catkins and can grow as tall as 25 feet. Catkins are cylindrical, slim flower clusters that don't have petals. The peachleaf willow (Salix amygdaloides; USDA hardiness zones 4-8) is another tall one. It can soar up to 70 feet high with a 2-foot-wide trunk and has both male and female catkins.
The white willow (Salix alba, zones 2-8) has long, trailing, downward-growing branches with attractive silvery-green foliage and recognizable, long-pointed leaves. There's also the show-stopping golden willow (Salix alba var. vitellina 'Yelverton,' zones 4-8), with its bright orange branches that look like flames and pretty deep green leaves. The brittle willow (Salix fragilis, zones 4-8) is a fast-growing willow with bright green leaves. These three can grow as tall as 60 feet, so while they look lovely outside and provide plenty of shade, you won't be able to grow these varieties indoors.
Willows are particularly difficult to grow indoors for various reasons, including their size, but their need for particular weather conditions is another barrier. Unless you have soaring ceilings or your own atrium or conservatory, it's not really possible to grow willow trees indoors because they get so tall and wide. You might have some success with shorter willows, like the dwarf weeping willow (Salix integra 'Pendula Waterfall,' zones 4-10), but these can be 6 feet tall and 5 feet wide.
This willow is also called the weeping pussy willow and has those attractive, fuzzy catkins. This type of willow prefers full sun to partial shade, and you can plant it in pots with well-draining soil. Water your willow more frequently in the summer than in the winter and make sure that the soil is moist but not soggy. Don't give it fertilizer unless you want it to grow taller. Prune as needed.