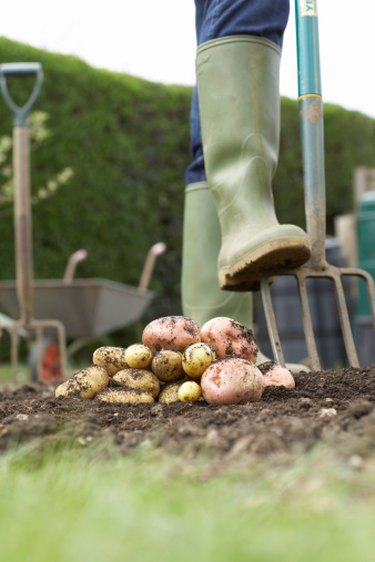 Many vegetables, including potatoes, grow well in Central Florida's climate, which is Zone 9 on the U.S. Department of Agriculture Plant Hardiness Map. The potato is one of America's most popular vegetables, according to the University of Florida IFAS Extension and is a popular crop for home gardeners due to its relative ease of growing and high yields.
When to Plant
The potato is a cool season annual crop and should be planted in early spring or late summer. In Central Florida, the crop should be planted in January or February. Many gardeners plant again in mid-August or early September, missing the hot summer and winter frosts.
Types to Plant
It is important to plant a potato varietal that will work in Central Florida's climate, as the varieties are different than those that grow well in most parts of the United States. According to the University of Florida IFAS Extension, white-skinned varieties La Chipper, Sebago and Yukon Gold, red-skinned varieties Larouge and Red LaSoda, russet variety Norkotah and blue variety All Blue do well.
Considerations
Grow your potatoes in full sun. They require well-drained and fertilized soil with frequent watering, but take care to not overwater. Keep the area well weeded to help control insects in addition to preventing disease caused by them.