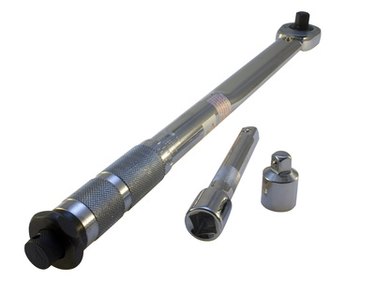 Torque is the force used to tighten fasteners or the amount of rotational force that a fastener must be able to withstand before failure. The American Society of Mechanical Engineers or ASME provides standards for how much torque fasteners should withstand and proper torquing during assembly.
ASME Standard B1.1
According to "Companion Guide to the ASME Boiler & Pressure Vessel Code" by K. R. Rao, ASME B1.1 or the Unified Inch Screw Threads standard defines the strength of flanged joints and torque limits based on their load.
ASME Standard B18.16
According to "ASME Engineer's Data Book" by Clifford Matthews, torque nuts are covered under ASME standard B18.16.1. This standard is also ANSI standard B18.16.1.
ASME Standard PCC-1
ASME PCC-1 standard is called the Guidelines for Pressure Boundary Bolted Joint Assembly. According to the "Piping and Pipeline Calculations Manual" by Phillip Ellenberger, the ASME developed standard PICC-1 to describe the appropriate way to assemble pipes flanges. ASME PCC-1 standard describes the torque to be used based on the size of the bolt.
ASME Standards for Testing Torque Tools
According to "Total Quality Management" by Jack Pekar torque wrenches are tested for torisional strength based on ASME standard B18.6.4 while they are tested for hex socket strength according to ASTM F912. There is no ASME standard for testing torque fixtures.