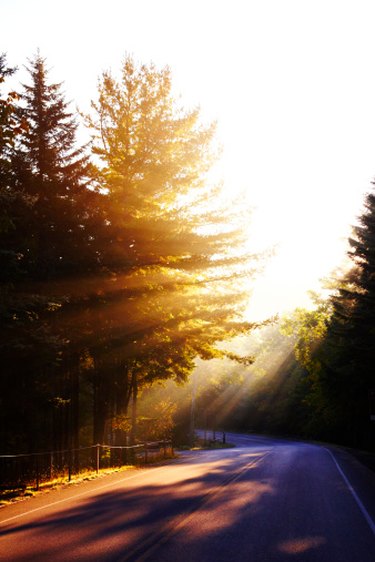 With so many different energy sources on Earth, it is easy to forget that almost every single one originates from the sun. Remember that the law of conservation of energy is that energy cannot be created or destroyed; it can only change its form. It only takes eight minutes for its energy to travel 93 million miles to Earth, and as it arrives, it is constantly transforming. It is the ultimate source of the planet's energy for its people and its plants.
How Plants Use the Sun's Energy
The sun is actually a star, composed of a combination of gases in the form of plasma. Approximately 75 percent of the sun is made of the element of hydrogen, which fuses and creates helium through nuclear fusion. The remaining 25 percent is mostly helium. The sun's radius is about 432,000 miles, about 109 times the size of Earth. You can compare its dense core to a vast furnace but with temperatures that exceed 29 million degrees Fahrenheit (15.7 million degrees Celsius), which would make it an incredibly hot furnace.
Plants absorb the sun's light and convert this energy plus air and water into chemical energy through photosynthesis. It forms into glucose, a simple sugar that plants use to grow. Plants also release oxygen into the air during this process. Animals, insects and humans consume plants and plant products, and their bodies benefit from the glucose. Without the sun's energy, Earth and its inhabitants would not exist.
The constant input of the sun's energy sustains the process of life. Photosynthesis converts light, carbon and dioxide into organic compounds; it is the fundamental source of the biosphere's organic material. Some exceptions to this exist, such as ecosystems around ocean floor hydrothermal vents. They get their energy from chemical compounds, like hydrogen sulfide and methane. These are exceptions to the rule, though.
The Start of the Food Chain
Earth's main food chain illustrates just how the sun's light initiates and maintains life. From the sun, plants get energy, and then they use it to create organic matter, like glucose. Plants are eaten by primary consumers, like chickens, who might then be eaten by secondary consumers, like humans. Of course, humans can also be primary plant consumers.
It is known that eating plants at the bottom of food chains is the best way for humans to acquire the energy they need to live. This is because as the chain continues, the original energy emitted by the sun gets consumed, but energy also dissipates. Animals actually use close to 90 percent of the energy in the foods that they eat for regular activities. This energy loss means that just 10 percent is left for the next consumer. As you go upward in the food chain, the overall energy efficiency decreases.
What Else Uses the Sun's Energy?
Heat energy from the sun impacts weather patterns that produce wind, and wind turbines can transform this into electrical energy. If you're not familiar with hydroelectricity, moving water sources, such as rivers, work to produce electrical energy. This means that hydroelectric energy is created most commonly in situations like dams that have a considerable amount of water. How does the water move? The sun's heat energy causes it to evaporate, which keeps it moving through the water cycle.
Fossil fuels, such as oil, natural gas and coal, are created over substantially long periods from fossilized and decayed animal and plant matter. The energy contained inside originally came from the sun via photosynthesis. Coal forms from plants that have been preserved, compacted and buried in sediment. Oil and natural gas are byproducts of photosynthetic plankton that have been preserved in sediments on ocean floors. It is then heated and chemically altered until it turns into hydrocarbons.