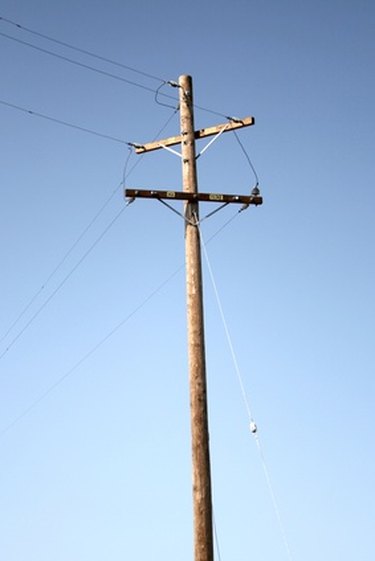 The most direct route overhead for electrical supply wires to a new construction or remodling project might be over the top of an existing shed. In most cases this will cause few problems but there are issues to consider before planting the power poles and stringing the wire.
Code Requirements
The National Electric Code (NEC), on which most local building codes are based, requires overhead wires be positioned 10.5 feet or higher than any roof over which they are routed.
Use Best Judgment
If you are building a shed under existing wires of a size or type which does not require obtaining a building permit in the jurisdiction in which you live, the 10-foot standard in the NEC does not legally have to be followed. As long as the wires don't ever contact the roof, neither the wires or roof of the shed will be damaged. However, the code was designed for the safety of roofers or other people who may, someday, be required to work on the roof. If you locate your shed under lower-than-standard wires, be sure anyone accessing the roof for any purpose is completely aware of the power lines.
Alternative Options
There are financial, aesthetic and safety issues to be considered before routing wires over a shed. Routing them to NEC standards could cost more and may look terrible. Ignoring NEC standards could be illegal or hazardous. Weigh the options of routing the wires around the shed or positioning the shed in a location not under existing wires. Changing from overhead, to underground, buried wires could be the best solution.