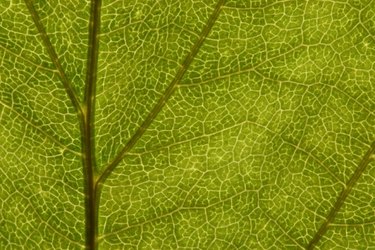 It makes a lot of sense that many plants are green because their cells are green, but what gives them this color? The answer is a substance called chlorophyll. Chlorophyll is a pigment known as a chelate, which means that it consists of a metal ion, magnesium, bonded to a larger organic molecule. Chlorophyll is found in chloroplasts, which are tiny organelles in the cells of many plants where photosynthesis takes place.
Chlorophyll, Photosynthesis and the Color Green
As you may know, color is the result of light reflections, and chlorophyll's absorption spectrum is very good at capturing blue-violet and red light. When these shades mix, you get green. Chlorophyll is essential to photosynthesis, which is vital to plant life. As you may recall from science classes, plants make their own food, and photosynthesis is how they do it. The first step of photosynthesis is the absorption of sunlight, which is the chlorophyll's job. Chlorophyll attracts and takes in energy from the sun.
Plants also have parts that absorb carbon dioxide from the air and water from the ground or atmosphere. They then use the energy from the sun that the chlorophyll absorbs to combine the water and carbon dioxide into glucose, which it then uses as food to support life. That is one of the reasons plants or parts of plants lose their green shade when they die. The plant can no longer make food, and therefore, the chlorophyll fades.
Chlorophyll and Other Color Changes
Have you ever seen pond or lake water that appears green? That's also due to chlorophyll. Even though you can't see them, microscopic plants called phytoplankton live in many bodies of water. They also utilize chlorophyll in their cells to harness the sun's energy to make food. If you see green water, the chances are good that the phytoplankton population is high.
It also helps explain some of the fabulous foliage seen on trees in autumn. Many trees need to get rid of their leaves to survive the winter. Otherwise, snow will make the branches too heavy, and the cold will drain the trees of precious food resources, which they spent most of the spring and summer making.
Therefore, the chlorophyll dies, allowing light to refract differently in the leaves, producing a broader array of colors. However, not all plants require chlorophyll to make or absorb food. About 3,000 plant species in the world do not contain any chlorophyll, including mycotrophic wildflowers and fungi, such as mushrooms.
Why Aren't Flower Petals Green?
Like humans and other animals, flowers have different parts that perform varying functions. Simply put, it isn't the job of flower petals to absorb sunlight or participate in making food, so they don't participate in the photosynthesis process. This different purpose is part of the reason they aren't green. That being said, the colorful petals on flowers also serve a purpose.
The flower petals get their color from the plant's DNA, and they are part of the plant's reproductive system. They contain the pollen and need to attract pollinators to them for that process to occur. Many essential pollinators, including bees and several types of insects, can only see certain shades on the light spectrum, so these flowers need to take advantage of these shades and colors.
Therefore, the fact that the flowers' DNA has altered itself to appeal to pollinators is a remarkable evolutionary advancement. It speaks to the wisdom of Mother Nature.