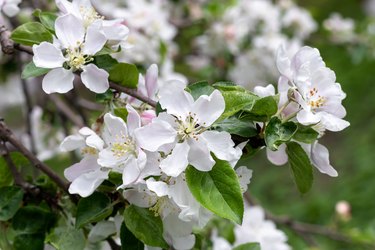 Do apple trees (Malus, USDA plant hardiness zones 2-7) flower every year? They usually do once they reach maturity, but the number of apple tree flower buds varies from year to year. Like most fruit trees, the apple bears flowers and fruit in two-year cycles; there's generally a significant crop one year and a smaller one the next. How do the blooming and fruiting processes work?
Bare-root apple trees do best when planted in the early spring, but you can plant container-grown ones anytime during the growing season. They do best in locations with full sun (six or more hours daily) in well-draining soil that retains some moisture; good air circulation is also essential.
The length of time for these trees to mature and produce fruit depends on the variety. Standard, full-size ones average four to eight years but longer if grown from seeds. Once a new apple tree gets established, you'll start seeing some leafy growth, but it will take three to four years for its trunk to increase in diameter and grow a good amount of solid branches.
Then, in the spring, you may start to see a show of flowers (apple blossoms) and finally its first fruits. Something must cross-pollinate the blossoms from other blossoms to turn them into fruit; bees perform this critical job. They bring the pollen that fertilizes the flowers, which then drop their petals as the seeds start to develop. An ovary begins to grow, surrounded by a layer that turns into an apple core. The outer part, also known as an exocarp, is the part that gets eaten.
When Do Apple Trees Blossom?
Apple trees blossom at different times depending on the variety and location. You can find apple tree bloom time charts online, and they are generally grouped into three categories: early bloom, midseason bloom and late bloom. For cross-pollination purposes, it's vital to grow ones that bloom simultaneously close together. You'll usually see the most apple blossoms in the springtime when the weather isn't too hot or cold.
Apple trees follow biennial or alternate bearing most of the time. When you have a heavy crop for one year, the tree devotes most of its energy to fruit development with little left for flower production. You'll most likely see only a few flowers and fruits the following year. Experts recommend thinning out the apples within six weeks of the full bloom but leave the largest apples within individual clusters unless they are damaged. Trim the apples to space them out 8 to 10 inches and you may have a decent crop the following year.
Celebrating Apple Blossoms
Apple blossoms bring pretty colors and beautiful fragrance to these trees, so it's no surprise that this harbinger of springtime is cause for celebration. European colonists brought apple trees to the new land. Festivals and apple blossom parades were organized to celebrate the season and impending apple crops in places like the Annapolis valley. Some of the largest ones held in the United States today are in Washington state; Winchester, Virginia (Shenandoah Apple Festival); and Nappanee, Indiana, but many smaller festivals happen in various locations across the country.
The flowers are certainly beautiful to behold, and you can actually eat them as well; they taste sweet and are high in antioxidants. People make these flowers into delicious teas and claim that the flowers promote various positive health effects, like stress relief, better digestion and clear complexion. Apple blossoms can also be made into jellies and whiskey and are used as edible flower garnishes.