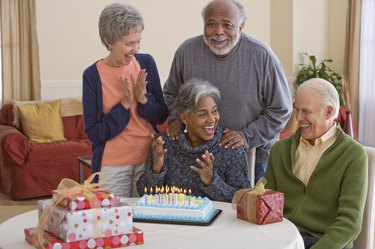 A 65th birthday is a milestone event that requires a proper celebration with close friends and family. If you're organizing a party for a loved one who is about to turn 65, incorporate the guest of honor's favorite things and memories into the decor.
Decoration Benefits
Party decorations for a 65th birthday celebration will enhance the party atmosphere and make event photos stand out. For instance, if you're having an elegant or semi-formal birthday affair, decorate in gold and silver to give an air of sophistication to the celebration. Use gold tablecloths, or place a large silver candle in the shape of the number "65" in the center of the table where you will serve the food.
Significance
By the age of 65, a person has a wealth of fond memories to look back on, so choose decorations that have significant sentimental value. Create centerpieces from family photos, or pictures of the guest of honor as a child or young adult. Use frames in the party's color scheme to display the pictures, and accent each frame with a matching flower or small balloon arrangement.
Considerations
Take the guest of honor's favorite colors into consideration when planning the party decorations. If the birthday celebrant loves green, use variations of green for tablecloths and small ferns as table centerpieces. For someone who prefers black and white, enlarge black and white family photos to put on the walls and add white goldfish in glass bowls to the center of each table.