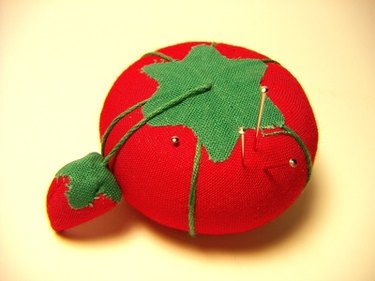 Metal pins are an invaluable tool for today's seamstress, and they were no less so for sewers throughout history. With pins came a variety of ways to store them, including boxes, cases and cushions.
15th-Century Debut
The first reference to the tomato pin cushion appears in the 15th century. Before this, as metal pins were rare and expensive, they were stored in a variety of protective cases made of bone, ivory or silver.
Tudor Era
During the Tudor Era (1485-1603) it became common practice to use fancy, stuffed shapes to store needles and pins. The familiar tomato shape evolved due to the folklore surrounding the fruit, which symbolized prosperity and repelled evil spirits.
A Sign of Prosperity
A custom evolved whereby ripe tomatoes were placed on a mantel to ensure future prosperity. As real tomatoes were not always available, people created fabric tomatoes stuffed with sand or sawdust. Eventually, the stuffed, decorative tomatoes were used as pin cushions.
Victorian Era
The stuffed tomato pin cushion was further popularized in the Victorian Era. As parlor rooms became more opulent, the lady of the house displayed collections of pin cushions in various shapes (fans, dolls, shoes, fruits and vegetables), taking pride in their number and variety. The tomato pin cushion became a familiar presence.
Present Day
The most familiar pin cushion today is the red tomato. The strawberry tassel attached to the pin cushion is filled with emery and serves to clean and sharpen needles and pins.