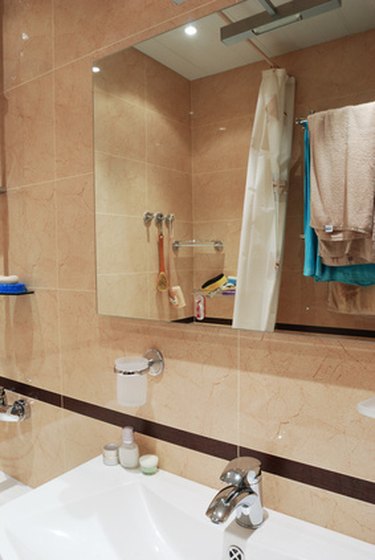 Whether you are remodeling your entire bathroom or just adding a few new fixtures, replacing an outdated medicine cabinet can make a huge difference in the finished look. Whether you choose a surface mount or recessed cabinet depends on a variety of factors, including space, time and ability.
Ease of Installation
Unless your existing bathroom wall already has a perfectly sized hole from a previous medicine cabinet, a surface mounted version is much easier to install. Such models can be hung over existing holes, in front of damaged sections or without worry with regard to wires, plumbing or the placement of the studs in the wall. Recessed versions must be perfectly fit into the wall, which often requires re-wiring and the cutting of a wall stud.
Space
What recessed cabinets lack in ease of installation, they make up for in space-saving qualities. In a small bathroom or a situation where the placement is near a door, a recessed unit makes a room feel less crowded and more efficient.
Time and Ability
Because of the ease of installation, a surface mounted medicine cabinet takes much less time to install. Most come with simple hanging instructions and require few tools or experience to hang correctly. A recessed unit requires more advanced building skills, a wider range of tools and far more time.
Size
A surface mounted cabinet also allows you the option of choosing different sizes. While a recessed cabinet needs to be a certain depth, width and height to fit in the wall, a surface mounted unit can be any shape or size that will fit between the ceiling and the sink.
Looks
When it comes to the appearance of the medicine cabinet, the look of the bathroom must be taken into consideration. A very modern or old-fashioned bathroom might be better suited to a recessed cabinet for stylistic reasons. Some bathrooms may look best with a surface mounted cabinet that matches or mimics the sink cabinet below. The desired look of the bathroom will help to dictate which style of cabinet is more appropriate.