Red and yellow roses make a thoughtful gift, but consider the meaning behind these roses to make sure they align with your intent. Red and yellow roses individually and combined have different meanings including love, friendship and celebration.
History
Roses can be traced to ancient Babylonia and the oldest Chinese dynasty from drawings in caves, on clay pots and on tablets. China introduced the modern red rose to Europe in the 1800s. Yellow roses were found growing in the Middle East and brought to the Western world around the 18th century.
Red Roses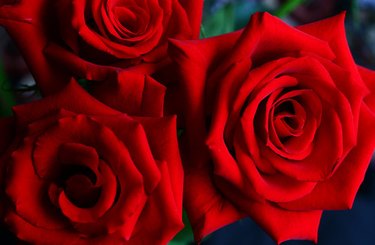 The red rose has been a symbol of love for centuries and continues to be the most popular way to express love. Red roses were used in ancient drawings, songs, poems and paintings to symbolize true love, deep passions and romantic intentions.
Yellow Roses
Yellow roses originally had positive and negative significance, but have taken a positive meaning, representing joy and friendship. They also are used as a welcome back or welcome home symbol, especially for returning war veterans.
Combination
Mixed together, red and yellow roses symbolize celebration, happiness, joy, compassion and compromise. They can be used for a special occasion without the overtones red roses alone would suggest.
Types
According to Rose.org, the seven types of roses are: floribunda, hybrid tea, grandiflora, shrub and landscape, climber, miniature and tree. Hybrid tea roses are the most popular.