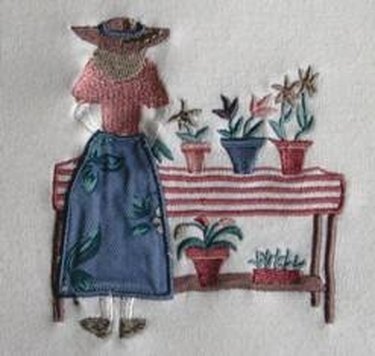 An applique is a design cut out from fabric and hand or machine stitched to another piece of fabric. It makes a wonderful addition to an outfit or item in your home. Something that starts out as only ordinary can be transformed into a truly original piece.
Patching
Mom's use appliques to patch holes in their children's trousers. Many different designs can be found that kids love.
Quilting
Quilters use appliques to enhance their handmade covers. Many designs are used repeatedly with the only change being the pattern on the fabric.
Pillows
Appliques can turn a simple pillow into eye catching addition to your room. If you like the beach, sew on a seashell or fish.
Curtains
Purchase an inexpensive curtain in a solid color. Add a few appliques to the bottom near the hem. Once you become tired of a look, remove the stitching and add a different applique.
Cover a Stain
If that new blouse or T-shirt has a stain that will not come out, sew on an applique. No one will know that it was not purchased that way.
Themes
Add an applique to your place mats. Make them seasonal by sewing on Halloween pumpkins or your child's name.