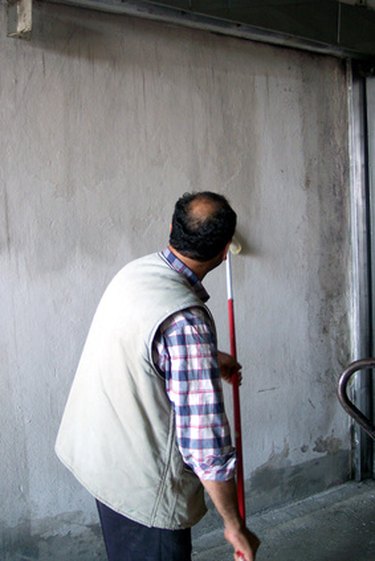 Wait 30 Days
New concrete should cure "for at least 30 days" before being painted, according to Sherwin-Williams. However, even if that time frame has passed, the paint company recommends testing for moisture. Do this by duct taping a 2-foot-by-2-foot piece of plastic to the floor or wall. Condensation or darkening of the concrete after 24 hours under cover indicates moisture.
Wait 60 Days
It's wise to let concrete cure for 60 days before painting, according to the Valspar paint company. After the concrete dries, Valspar and Sherwin Williams both say you should "acid etch" the concrete so paint will adhere to it.
Bottom Line
The website Painting Techniques & Decorating Ideas says it can take "a month or more" for new concrete to dry "depending on environmental conditions." Similar to Sherwin Williams, the site suggests using the tape-and-plastic test to check for moisture before painting.