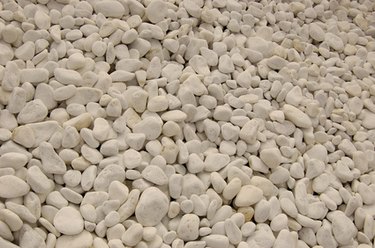 Driveway Layers
A gravel drive should have a first layer of baseball-sized stones at least 4 inches deep. According to Tim Carter of AskTheBuilder.com, each layer thereafter should be 4 inches thick and in gradually smaller stone. Compact each layer with a tamping machine, and cover with the final layer of crushed gravel for a depth of about 12 inches.
Alternative to Gravel
To start a driveway with sand and limestone mix, put down at least 8 inches and compact it to 6 inches with a roller. If money is a consideration, TractorPoint.com suggests using crushed asphalt as a base, topped with 2 to 3 inches of crushed stone. A top dressing of stone may be needed later for appearance.
Bottom Line
Although various components can be used, and no matter what choice is made, start with a well-drained strong soil base, layer with sand and limestone mix, then various sizes of stone up to 8 inches.Top with 4 inches of fine gravel or asphalt to produce a driveway that will last for decades with minimal upkeep.