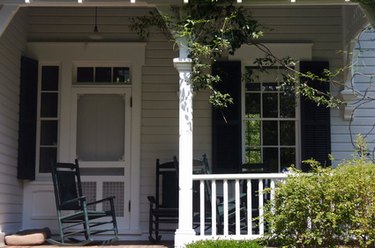 Modern home construction usually follows one of two types of foundations: a crawl space (or raised) foundation or a concrete slab. Both types have advantages and disadvantages and are options that both the architect and building contractor must consider. Homeowners must consider the differences in living space and comfort that they afford.
Crawl Spaces
A crawl space foundation is raising the first floor of the home anywhere from 12 to as much as 60 inches above the ground on pile supports. This foundation allows easy access to plumbing, wiring and ventilation ducts. Crawl spaces also allow airflow under the home.
Crawl Space Advantages
In addition to providing access under the home, a crawl space allows ventilating air to travel under the home. This can improve cooling in the summer and reduce any moisture in the soil under the home. Of course, crawl spaces with enough clearance provide additional storage space for lawn equipment, well pumps and other household items not affected by the open climate.
Crawl Space Disadvantages
The same air cooling the house in the summer can freeze the house in winter. The need for additional insulation under the home can raise construction and maintenance costs. Depending on the climate and location, water can collect under the home and provide breeding areas for insects. Also, crawl space homes on raised foundations can have settling problems if the soil is not completely stable.
Slab Foundation
A slab foundation is a concrete slab pour on which the home is erected. Usually, plumbing and possibly wiring conduits are placed directly in the slab area and sealed in the concrete.
Slab Foundation Advantages
The biggest advantage to a slab foundation is cost. Pouring a large area of concrete and building directly on the slab costs much less than building piles and constructing floor joists to support the weight of the building. Another advantage is the slab home is easier to cool and heat as there is no air space under the house affected by the seasons.
Slab Foundation Disadvantages
Any plumbing problem associated with the sewer drain may mean removing concrete from the slab to gain access. All ventilation ductwork must be channeled through the attic and other spaces in the walls. Finally, the slab home is only inches off the ground. Potential flooding of only a few inches of rain is a definite possibility depending on the home's location and surrounding geography.