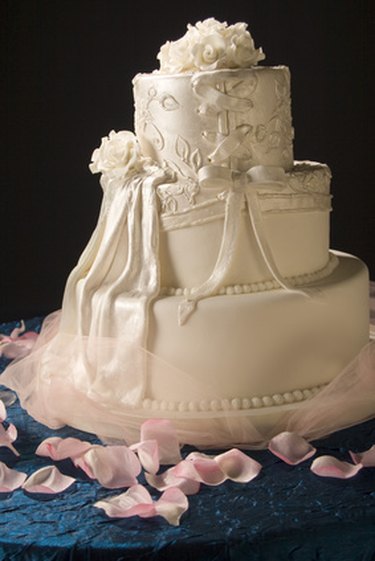 Church members often celebrate the life and career of their pastor with a formal banquet. A church banquet can celebrate the pastor's anniversary with the church or a special birthday. Whether the banquet takes place in a church hall or off site in a ballroom, decor is important. Decorative elements, like centerpieces and favors, personalize the event, making it even more special for the guest of honor.
Centerpieces
Before the banquet, have church members share favorite photos of their pastor over the years. Collect the photos, and frame each photo to use as a centerpiece on each banquet table. You can surround these frames with floral centerpieces, votive candles or flower petals to dress up the table. If you collect enough photos, create a small collage for each table, mounting the photos on durable card stock and placing it in the center of the table on a small easel.
Room Decor
Set up a few tables around the room that showcase the achievements of your pastor. Work with his church office to collect any plaques, certificates or awards that he has won over the years. Display them on tables with linen tablecloths and floral bouquets. If you have extra pictures remaining, mix framed photos into the display. The Presbyterian Church of America Historical Center suggests displaying old photos and asking guests to identify the people in them.
Decorating with Food
A cake serves not only as a delicious dessert; it also can be the centerpiece of the decor. Choose a multi-tiered cake that follows the color scheme of the banquet, and place it in the front of the room on a separate table. You can adorn the cake with flowers for a pop of color. An ornate silver or gold plate stand can make the cake stand out even more.
Guest Book
A photo mat guest book decorates the banquet hall and gives your pastor a memory from the event to take home. Choose several picture frames with sturdy white or ivory mats. Remove the glass from the frames, set the frames and mats on large easels and allow guests to write words of appreciation on the photo mats. The pastor can take this guest book home to display photos of her family or her church members.
Favors
Add to the table decorations with take-home favors that will delight guests and honor the pastor at the same time. Choose a favorite line from a pastor's sermon—or a phrase that he says regularly. Print this saying on a small piece of colored card stock, and glue a magnet to the back of it. You can package this simple—and personalized—favor in a small organza bag tied with a ribbon. By including a favor at each place setting, you add some decor to the table while sending guests home with a lasting memory of their pastor.