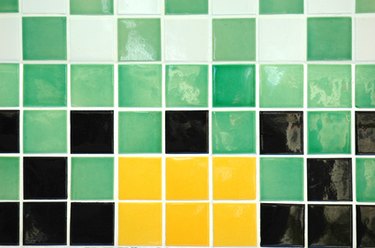 Porcelain is a very dense type of ceramic material that is used throughout the house, especially in kitchens and bathrooms. Porcelain is typically glazed or dyed to give it its long-lasting color, but over time damage can occur. The porcelain can chip or stain, which ruins the glaze and makes it difficult to repair. Homeowners may be tempted to buy enamel paint and give the porcelain another coat, but they must choose their paint very carefully.
Enamel Paint
Enamel paint is typically an oil-based paint that dries into a glossy, durable surface. However, there are many different types of enamel that use a variety of resins and dyes for various effects. Most cannot be used with porcelain. Porcelain is so dense that most enamels will flake off and not bond properly to the surface, especially with the porcelain glaze in place.
Porcelain Enamel Paints
Porcelain enamel paints are a classification of enamels that are used to paint porcelain and other surfaces. This type of paint is made in a method similar to the porcelain itself and is designed to be extremely durable, more like glaze than common household paint. Home improvement stores often sell this porcelain enamel as a quick fix to porcelain scratches or other problems.
High Heat Paints
High heat enamels are paints designed to be used in areas that are exposed to high temperatures, such as grills or ovens. If these appliances have porcelain on them, then this paint is also a possibility, since it will resist heat as well as the porcelain itself.
Paint Kits
For in-depth porcelain repair, home improvement stores sell porcelain paint kits. These kits include paint that is designed to be used specifically with porcelain. While color options are limited, these kits help homeowners paint several coats on porcelain surfaces, like bathtubs and toilets, that are frequently exposed to water.
Preparation
In order for enamel paints to be effective, you must strip away the surface glaze sheen. This roughens up the porcelain and gives the enamel something to adhere to. Use an orbital sander or similar tool for this job. There are professionals who use commercial tools and enamel to repair porcelain damage.