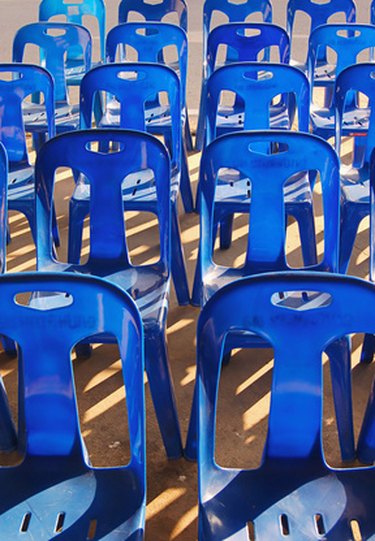 Getting paint to adhere to plastic has always been tricky and, until fairly recently, involved complex industrial finishing processes. Spray paints and primers just for plastics have entered the market and are accessible to do-it-yourselfers without special equipment. However, the number of companies offering them is limited. Melamine paints designed to adhere to laminate surfaces, such as kitchen cabinets, also are becoming increasingly popular.
Industrial Applications
Industrial application of paint for plastic involves cleaning and lightly etching the surface with special chemicals to provide a surface for adhesion. Specialty coatings are then applied, allowed to dry and baked at high temperatures to create a durable finish. The cost of the equipment, material handling and disposal requirements make industrial plastic finishes prohibitive for do-it-yourself projects.
Conventional Primers and Paint
Solvent etching with a reactive fluid or lightly but thoroughly sanding plastic, then applying conventional primers and paints thick enough that they will not "crawl" can be marginally successful on small surfaces and when surface wear and exposure to the elements is not a factor. Model makers have been painting plastic parts in this manner for ages. Hobby and model stores have a variety of products for these purposes in small bottles and spray cans.
New Spray Paint
Krylon has introduced Fusion, a relatively new product, and still the only one of its kind. Fusion is a spray paint especially formulated to adhere to plastics but useful on other materials as well. It comes in a variety of colors and can be applied to clean and dry surfaces without a primer. As with any spray-can products, the paint should be applied in thin, even coats and built up to the desired finish. Fusion is widely available at paint, hardware and home improvement stores.
A Primer for Plastic
Plastic primer from Rust-Oleum is also new to the market and exclusive to one manufacturer. It is available in liquid and spray can products. When applied to clean, dry plastic surfaces, the primer provides an adhered layer that can be finished with any paint topcoat product. The primer is widely available where Rust-Oleum products are sold.
Melamine Paint
Melamine paint provides a thick, hard, high gloss, self-leveling finish that works nicely for refinishing plastic laminate surfaces like those found on kitchen and bath cabinets and countertops. The paint, produced by a number of manufacturers, is available at paint stores. It comes in a variety of factory-mixed colors and increasingly in tint bases like other paints.
Melamine paint is applied, usually without a primer, with conventional painting tools, such as brushes, rollers and sprayers. One drawback to melamine paint is that it tends to chip and the chips can be hard to refinish and blend in.