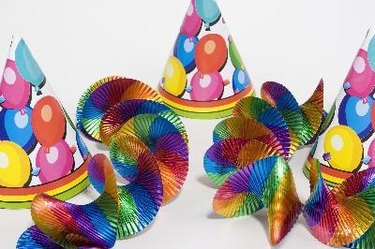 Planning a party for an eight-year-old child can be a lot of fun, especially since he will have his own opinions about the theme. It might be challenging to come to an agreement, but the outcome will be fun. Your child will especially enjoy the party knowing she helped plan it. Consider your child's interests when thinking about party themes. Parties for eight-year-olds can center around a favorite activity or hobby.
Decorate A Cake
It's not a birthday party unless there is cake, so let dessert dictate the theme. Pre-bake enough cupcakes so that each party guest has one. Invite only enough guests to fit at your kitchen table since this activity requires a work surface. Set up an card table if you need extra space. Set out bowls of different colored frostings as well as candies, nuts and sprinkles. Allow each child to decorate her own cupcake. Have extra adults at the party available to help. You might consider offering prizes for categories such as "Most Festive Cupcake" or "Prettiest Cupcake." Just make sure there are enough categories so that each child gets a prize. Chef hats make fun favors, or package up the dry ingredients for a five-minute mug cake and stick them in a festive mug along with the baking directions.
Costume Party
Children at this age still enjoy dressing up and playing pretend. Give the guests and their parents plenty of advance notice so they can create an exciting costume. Girls might enjoy dressing up as princesses, fairies or favorite characters. Boys might enjoy pretending to be pirates, cowboys or superheroes. Encourage the guests to be creative. Allow the children to parade around your yard, showing off their fancy clothes. Award prizes for the silliest, scariest and prettiest costumes. But be sure no child is left out. Decide on a category that fits each child's costume.
Out of This World
Children who are interested in aliens or rocket ships will enjoy an outer space themed party. Collect several sizes of cardboard boxes and let the guests create their own spaceship. Another craft idea is creating a solar system mobile out of various sizes of Styrofoam balls. Guests can color the planets and then string them up. In addition to cake, offer guests bowls of Martian slime (green gelatin) for dessert. Give each child a packet of glow-in-the-dark stars for party favors.
Pajama Party
Rent a stack of your child's favorite movies for everyone to watch. Choose easy food like pizza, hamburgers or hot dogs because you might be busy tending to giggling guests. If the parents of some of your child's guests don't know you, invite them to eat dinner as well. This might also help shy children feel more at ease about spending the night at someone else's house. If the party is held during the summer, make it a camp out. Set up a tent and equip the guests with flashlights. Prepare your best ghost story and encourage guests to make up their own.
Considerations
No matter what kind of party you plan, the most important thing is that everyone has fun. A child's birthday party does not have to be an extravagant affair, so make sure that whatever you choose, it's not something that will be stressful. Provide a great birthday cake, a few games and a treat bag for each guest and enjoy all the smiles.