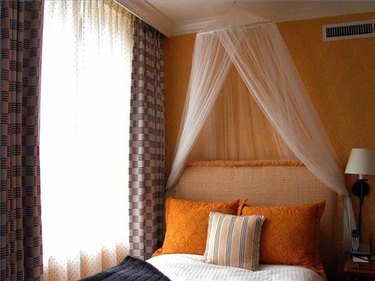 Euro pillows are different in size and shape from standard American pillows. In the United States, they are primarily used as a decorative accent alongside standard American pillows, rather than for sleeping. In recent years, they have gained in popularity with the emergence of shabby chic and continental style home décor that both draw on European style and tradition. Euro pillows have also become quite common in hotels, especially those with a continental décor, which has also influenced home decorating.
Sizing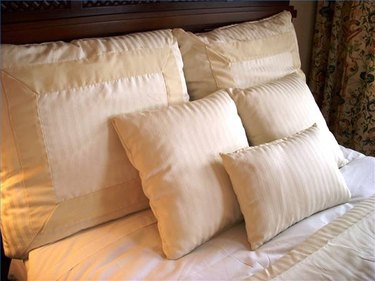 A Euro pillow is a square, measuring approximately 26 inches by 26 inches. In contrast, a standard American pillow usually measures 26 inches by 20 inches. Euro pillows are also usually overstuffed to give them a full appearance. This makes them easy to fluff and also helps them to stay standing on edge, as they are normally placed.
Hotel Pillows
From budget to luxury, many hotels are now using Euro pillows. They add an extra touch of class to the bedding. A Euro pillow is comfortable to lean against and in better hotels will have a high-quality pillow case or sham. Many people find that once they sleep at a fine hotel surrounded by overstuffed and oversized Euro pillows, they want to recreate the look at home. Simple, sleek hotel-style bedding is now popular and can sometimes even be purchased directly from the hotel.
Making the Bed
For your own master bed, a Euro pillow is a vertical accent that adds depth and richness to the bedding ensemble. It is usually in a contrasting fabric to the standard American-sized pillows. If you don't have a headboard, stacking a few Euro pillows against a wedge pillow will give you the support you need to read comfortably in bed.
Quality
Since Euro pillows in the United States are used primarily for décor, they are usually stuffed with inexpensive polyester fiberfill or feathers. This is acceptable if you won't be using the pillow for anything other than decoration. For comfort, find a pillow that is a down and feather blend and make sure the covering is woven tightly enough to keep the feathers from poking through. A good guide is to look for a 230-thread count covering. If you have allergies, try to find a pillow filled with Primaloft, which is hypo-allergenic but has the same feel as a down pillow.
Shams for Euro Pillows
Euro shams are a decorative cover used on Euro pillows. Traditionally, they have flanged edges on all four sides. Fabrics vary from lightweight to heavy upholstery material. Vintage Euro shams are usually made out of cotton or linen. Look for an antique dealer specializing in European linens to find vintage Euro shams.