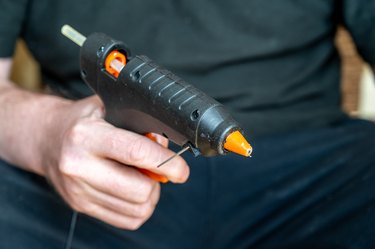 There are two ways to discover that hot glue sticks come in a variety of sizes and types. One is to grab the first pack of glue sticks you see at the store, bring them home, and find with dismay that they don't fit inside your glue gun. The wiser way is to read the information below and determine which type of hot glue products you need before making a purchase.
Along with selecting the right size glue sticks to fit your glue gun, you also need to be aware of high-temp and low-temp glue sticks. This can make a significant difference in the success of your craft or DIY project. There are other factors to consider, too. It's not rocket science, but if you want, you can refer to your hot glue as "thermoplastic adhesive" and feel a little smug about becoming a bit more of an expert.
If it's a little too late and you unwittingly went with the trial-and-error approach to buying hot glue gun sticks, here's some good news. You get to go back to the craft store to make an exchange, and who wouldn't want to take another trip to the craft store?
Hot glue is one of the most versatile of all glue types, suitable for a broad range of materials and projects. It's thick and gloopy enough to fill gaps, dries quickly and has a long shelf life with no risk of your hot glue sticks drying out or spilling while in storage. Thanks to the application method—a hot glue gun with a narrow nozzle—you can apply hot glue as a surface decoration, using the nozzle like a pen to draw 3D shapes, letters and designs.
Yep, hot glue is pretty amazing stuff and the go-to glue for all manner of arts, crafts, repair and DIY projects. These projects have a greater chance of success if you use the right type of hot glue. Stick size and temperature are the main factors to consider for most uses, although other specialty hot glues are available for specific applications when all-purpose glue sticks aren't the best choice.
Two sizes of hot glue guns are sold for regular household use, and each requires a glue stick with the correct diameter. Full-size hot glue guns require ½-inch (12 mm) glue sticks, whereas mini glue guns take mini-size 5/15-inch (7 mm) glue sticks. The size should be clearly printed on the packaging and product descriptions for hot glue sticks, so it's easy to verify that you're buying the correct size. Other glue stick sizes are available (11 mm, 15 mm, and even larger) for industrial applications. Hot glue guns requiring these sizes are much less common.
Diameter is the key dimension to making sure hot glue sticks work with your particular glue gun, but they come in different lengths as well. Mini glue sticks are typically 4 inches long, and standard ones might be 8 or 10 inches long. The length only affects how often you need to replace the glue stick, as well as value for money.
High-Temp vs. Low-Temp Glue Sticks
Hot glue guns are usually either high-temperature or low-temperature models, and each requires matching temperature glue sticks. High-temp hot glue guns require high-temp hot glue sticks (pretty obvious, right?), also known as hot melt glue sticks or hot melt adhesive, which melt at around 380 degrees F. Low-temperature glue guns require low-temp hot glue sticks, which melt at a much lower 260 F. Some hot glue guns are dual-temperature models. You can use either kind of glue stick in a dual temp glue gun as long as you select the appropriate setting.
High-temp hot glue promises a stronger bond than low-temp hot glue. It also takes longer to dry, which is helpful when you need more time to adjust the positions of the items you are gluing. One trade-off for a strong bond is that the glue temperature is too high for delicate materials such as craft foam, inflated balloons and some plastics, and it can damage them. Low-temp hot glue is the best option for those types of materials. Low-temperature hot glue guns are also preferred for kids who are learning to safely work with hot glue, as there is less risk of burns.
Typical hot glue sticks are transparent, but a variety of colored glue sticks are available too. These can be useful for repairs if you want to match the color of the item you are repairing. However, their primary purpose is for arts and crafts projects using hot glue as surface decoration. You can also find glow-in-the-dark and glitter versions of hot glue sticks for creative projects.
Some hot glue sticks are formulated for specific surfaces and applications. Examples include woodworking hot glue, heavy-duty hot glue and fabric glue. Read the product descriptions carefully for specialty glue sticks to make sure they match the size and temperature requirements of your hot melt glue gun. No-strings hot glue is another niche type of hot glue stick that promises to eliminate the issue of thin, stringy bits of excess glue forming as you apply hot glue. This product is great for perfectionist crafters!
Ready to Hit the Craft Store?
Now that you're essentially a hot glue expert, you can browse online or explore a bricks-and-mortar craft store with total confidence in buying the best hot glue sticks for your project. After such a crafting success, feel free to blow the imaginary gunpowder off your hot gun nozzle, cowboy-style.