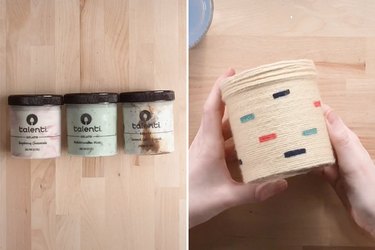 A tub of Talenti gelato is a gift that keeps on giving. Once you finish your delicious pint of Caramel Cookie Crunch gelato (or Mediterranean Mint...or Black Cherry...or Hazelnut Chocolate Chip), don't toss that jar. There are so many inventive ways to give those empty containers new life, and a quick scroll through the crafty side of social media provides loads of inspiration. To get you started, we've rounded up five clever gelato container creations, from upcycled planters to DIY coffee cups. Let's dig in!
The first brilliant idea comes from TikToker @diannaangelicaart, who uses a sturdy, transparent Talenti jar to create an ideal environment for housing orchids. Orchid roots benefit from air and light, so a clear pot certainly does the trick. Dianna simply drills holes into the cleaned-out container and repots the orchid, noting that the best time to repot is when the orchid is ‌not‌ in bloom. The end result is a unique, vibrant upcycle that doesn't take long to create.
Next up, Instagram artist @americanhandcraft shows off a straightforward and visually pleasing way to reuse those spacious plastic jars: as paint storage pots. The transparent nature of Talenti jars makes them perfect for keeping colors organized, while their airtight lids offer seamless preservation. Talk about a low-cost way to stretch the life span of a necessary art supply!
Our third genius project comes from TikToker @cherii.creative, who creates a Sanrio-inspired art piece from an empty Talenti jar by painting the jar base blue and adding realistic cloud designs. The container is topped off (literally!) with faux icing details that look good enough to eat. This project makes for some undoubtedly delightful decor, and it would be a great place for tucking away knickknacks, odds and ends or craft supplies.
4. Mini Desk Supply Caddy
Speaking of storage, @modpodgecrafts (yes, everyone's favorite decoupage glue brand has loads of inspiration on TikTok!) shows us how to create a super-cute supply caddy. Using Mod Podge spray, an empty Talenti jar is wrapped in twine until the whole surface is covered. Next, a painted pattern adds simple yet lovely lines of dark blue, light blue and pink. The final step? Topping it all off with pompoms and filling the jar with art supplies. We love how simple yet elevated this craft is.
Last but certainly not least, TikToker @ctilly_lace inspires a bit of self-care by using an empty Talenti jar to mix and store homemade sugar scrub. The ingredients are simple: sugar, honey, grapeseed oil, coconut oil and any body wash or conditioner of your choice. We can only imagine how wonderful that jar smells after everything is combined!
From plants to knickknacks to bath and body products, the options for refilling your Talenti gelato jars are endless—and these upcycling hacks will help dampen the disappointment of finishing a pint. What's more? If you go grab a replacement pint (or three), you'll have more jars to upgrade! We love a win-win scenario.