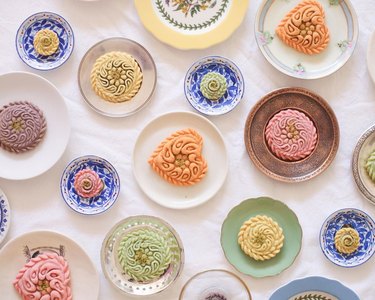 Pastry chef Fariba Nafissi prides herself on crafting pastries and cookies that delight the senses. And we're not just talking about taste—Fariba's desserts are a treat for the eyes too. Think: an array of elegant, stunningly designed sweets made with ingredients like rose water, saffron, pistachios, marzipan and chickpea flour. There's even a signature mini pie-like cookie created with spiced minced dates and surrounded by a delicate crust that's hand-stamped with gorgeous abstract patterns.
The latter, known as ‌kolompeh‌, is the cornerstone of Fariba's business, ZoZo Baking, which specializes in Persian baking from Fariba's native Iran. Since its founding in 2016, ZoZo Baking has grown from a modest Etsy shop to a storefront in Simi Valley, California, that ships 1,500 boxes of pastries a month. "It's an amazing feeling to share my culture with a wider audience, especially when there are so many wonderful voices online that it's hard to be heard," Fariba says. "Kolompeh is the first thing I learned to make as a kid, and now I've made at least 500,000!"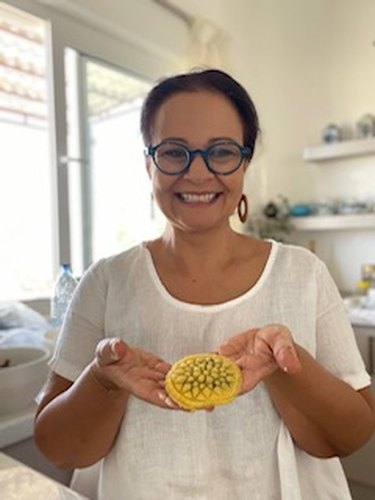 Though ZoZo was born out of Fariba's desire to step away from a corporate career and pursue a more creative path, it also serves a higher purpose—to showcase the underrated art of Persian baking and bring it to a mainstream audience. Fariba recalls a "light bulb" moment during a Parisian pastry class early in her baking career. "We were doing a deep dive into macarons, and I thought, 'Persian pastries are as good as anything from France,'" Fariba says. "I wanted to do something no one else had done, which was to feature our pastries in the way they deserve."
We spoke to Fariba about the beauty of making food with things that surround you, reconnecting with cultural roots through baking and her other pressing passion: spreading the word about Iranian women's ongoing fight for their lives.
Many of us are not very familiar with Persian sweets. How would you describe them?
‌FARIBA:‌ Persian sweets are wholesome, natural, with a wide range of flavors and tastes, such as saffron, rose water and cardamom. Kolompeh, which is a specialty of my hometown of Kerman, Iran, is a great example. We use dates from date palms—with no other sugar, no preservatives—along with saffron, cardamom, spices and walnuts.
When did you start baking?
‌FARIBA:‌ My mom is the Martha Stewart of our family, and she taught me everything as a kid. She was a housewife and would cook and bake all the time for huge gatherings like Nowruz [Persian New Year] and other holidays. She's 94, and even now I gasp when she tells me I'm doing a good job with my baking. Baking was her art, which I'm trying to take bigger, so it means a lot that she approves.
What inspired your jump from working a corporate job to baking?
‌FARIBA:‌ Although baking was my passion, when I came to the United States as a young adult, I had to go to college and get a job. I worked in management at IKEA for 19 years, and it took over my life. I was supposed to visit a cousin in Iran with whom I was very close but had not seen for a long time. I kept putting off the trip because of work. She died in her sleep, and I never got the chance to see her. That was a huge wake-up call for me. I thought, 'What am I doing with my life?'
I quit my job cold turkey, rented a house in San Francisco to take a three-month baking course, did another week in France, then stayed in Iran for a few months to bake with my mom and refine my plans. I opened the ZoZo Baking Etsy store and rented commercial kitchens to bake and ship, eventually renting my own space. Now I have the freedom to take off two months every summer during slow season and spend time with loved ones.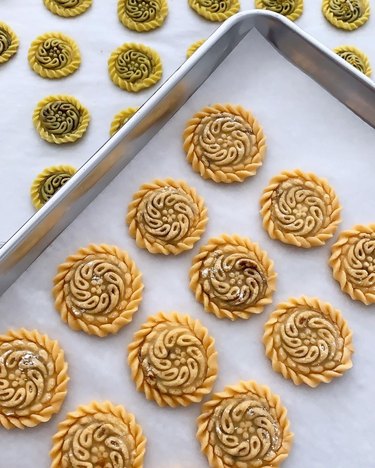 Kolompeh is one of your most popular items, and it's even on your logo.
‌FARIBA:‌ Yes, I've crimped and stamped thousands and thousands and added different flavors to modernize and grow its appeal outside Iran. To this day, making kolompeh is the one thing that relaxes me and puts me in a good mood. It's such a great feeling to take something Persians have been making for thousands of years and create it here in the U.S.
‌FARIBA:‌ Yes, we're very good at using whatever resources are available. Iran's most popular cookie is ‌nane-berenj‌, which is made with rice flour and rose water, decorated with saffron and poppy seeds. We also have a chickpea flour cookie flavored with cardamom.
Why do you think Persian baking isn't better known?
‌FARIBA:‌ I think we've had many chefs and authors shine a light on Iranian ‌cooking‌, but no one has done the same for Iranian baking. People are simply not aware of how healthy and wholesome Persian sweets are. My goal has always been to showcase Iranian sweets in a way that's both appetizing and tasteful.
‌FARIBA:‌ It's exciting! On season 1 of Padma's Hulu show ‌Taste the Nation,‌ she interviewed Naz Deravian (author of ‌Bottom of the Pot: Persian Recipes and Stories),‌ who is Iranian. Naz had ordered a box of my pastries for their talk, and Padma really liked them, so she ordered from us as well.
What's a typical day like for you?
‌FARIBA:‌ During the busiest time of year, around Nowruz or other holidays, I get to work at 4:35 a.m. I check my orders and emails and make a plan for the day. I always like to go in early and prioritize that time so we know which direction we're going in for the day. I work on the design of the website, blogging, posting, taking pictures. I do everything myself. I usually go home around 7 p.m.
No-Bake Persian Toot
These mulberry fruit-shaped marzipan sweets made with almond paste are ever-present at Iranian get-togethers, not to mention delicious and easy to make. "They're the perfect introduction to Persian baking because they don't actually require an oven," Fariba says. "As we say in Persian, 'Noosh Jan,' or 'Enjoy!'"
‌For the paste:‌2 cups almond flour1 cup powdered sugar2 to 3 Tbsp. rose or orange blossom water1 tsp. almond extract (optional)Gel food coloring‌Ingredients for the assembly:‌2 Tbsp. powdered sugar for dusting1 cup granulated sugar½ cup slivered pistachios or almonds
‌Process: ‌Pulse almond flour and powdered sugar in a food processor until well combined.
Add rose or orange blossom water, almond extract and your favorite food coloring. Pulse just a few times until dough forms a ball. If dough is too dry and doesn't come together easily, add more rose water a few drops at a time. If it's too wet, add more almond flour.
Dust your work surface with powdered sugar, remove paste ball from processor and knead gently. Divide dough into equal size, wrap it in cling film and place in refrigerator until firm.
Put granulated sugar in a small bowl, set aside.
Evenly roll paste into a 3/4 in.-thick, 12 in.-long rope. Use a knife to cut large pea-size pieces. Roll one piece into a ball, then place ball on work surface. Positioning your thumb and index finger over ball, rotate ball clockwise while gently pressing down to form a cone shape (similar to a mulberry) with a flat bottom. Stick an almond or pistachio sliver on flat end like a stem. Repeat with each piece and remaining marzipan. Place finished toot in your favorite dish and serve.
‌Storage: ‌If you have leftover paste, or toot, place in an airtight container and store in the fridge for up to one week. You can also freeze for up to two weeks. Just remember to remove from freezer 8 hours before serving.
‌Tips: ‌Fariba recommends Sadaf rosewater for great aroma and taste, but you can use orange blossom or plain water if desired. If you're using gel food coloring, place a toothpick in gel and add to almond paste. Mix well. If you're using organic natural colors in powder form, add 1/4 tsp. of your favorite color. Fariba uses Suncore brand.
Where do you want to take ZoZo in the next five years?
‌FARIBA:‌ I want to open a baking school for Persian goods and have a storefront location in a good, busy, crowded multicultural place where people have a lot of access. Right now, people can come in for tea and pastries, but it's still mostly a working bakery.
It must be particularly gratifying to own a business that's connected to your culture.
‌FARIBA:‌ Yes. I was so removed from my culture before I began baking. I'm the only one in my family who lives in the U.S., and my husband is American. Starting ZoZoBaking was an awesome way to bring a taste of home to the Persian community living in Los Angeles, which is the largest in the U.S., and even break through to the mainstream. It has certainly reconnected me to my roots.
What else do you do to connect to your roots?
‌FARIBA:‌ I have a garden at home that reminds me so much of my childhood in Iran. I grow pomegranates, oranges and grapefruits. To me, that's life. It's so strange to see our neighbors let their oranges fall from the trees, then buy fruit at the store! We even grow wheat, which we germinate and use to make Komach (our date walnut pie) and samanu (a sweet wheat puree eaten during Nowruz).
‌FARIBA:‌ I was visiting family in Iran when Mahsa Amini was killed, three days before my departure day. Since then, I haven't been able to post about my business. It blows my mind every day. I cannot imagine what women in Iran are going through, how resilient and brave they are. I'm so incredibly proud of them, but I feel guilty that I'm here and they're suffering. I feel obligated to be their voice, to be a tiny drop in the ocean, to talk about them.
Who Was Mahsa Amini?
Protests throughout Iran began in September 2022, when 22-year-old aspiring lawyer Mahsa Amini died at the hands of Iran's morality police, it is suspected, for allegedly violating the ultra-conservative dress code. Hundreds of women and men have been killed and thousands arrested. Protests continue.
What can all of us do to help?
‌FARIBA:‌ Because of sanctions against Iran, we can't fundraise or send donations. But we can spread the news about them, post on social media. The sun won't always be behind the clouds. One day, the light will come through.