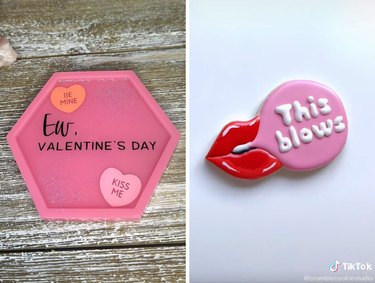 Valentine's Day is all good and lovely (any holiday that provides an excuse to eat a box of chocolates so big that it comes with its own key is OK in our book!). But February 14 is also a wonderful opportunity to get in touch with ‌both‌ your sweet and sassy sides with all kinds of fun anti-Valentine's Day activities, especially if you're going through a recent heartbreak, throwing an epic Galentine's Day party or have simply always wanted to recreate Jennifer Garner's epic heart-piñata-breaking scene in the movie ‌Valentine's Day.‌
Whatever your reason for celebrating an alternative Valentine's Day, we've totally got you covered with a handful of the quirkiest, wittiest, most downright fun ideas from across social media. So grab your loved ones and get ready to turn Valentine's Day a little upside down this year!
Valentine's Day often means scrolling through social media posts loaded with cutesy photos of couples. For something totally different, grab your bestie (or hey, even a sandwich!) and celebrate platonic love with a friendship photo shoot. TikToker @bbnandes shows us how it's done—the photographer snapped photos of a BFF duo complete with paper hearts, a vintage phone, adorable pajamas, champagne and a dessert pizza with chocolate and strawberries. What a vibe!
2. Cheeky conversation heart earrings
If you're not feeling the lovey-dovey vibes this V-day, you're not alone. In fact, Etsy has its fair share of amusing handmade items to help folks embrace their unromantic feelings, including these handmade acrylic earrings from artisan BrownCowCreativesToo. Available in colors like baby pink, pastel blue and peach, the earrings feature funny phrases designed to reflect rejection in a quirky way—our personal favorite is "Hard Pass."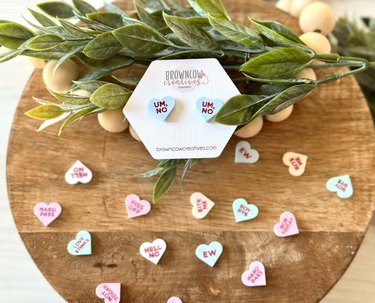 3. Marvelously moody heart wreath
Not impressed by hot pink Valentine's Day decorations, heart garlands and delicate paper doilies? Make your own dark heart wreath with decidedly gothic vibes. TikTok crafter @xoaprillmae uses faux black roses, a heart-shaped grapevine wreath and a large black ribbon to make her own version of this moody craft, which is perfect for anyone who has a bone to pick with Cupid.
4. Snarky (but sweet!) Valentine's Day cake
Have you always believed that candy and other sweets were the only worthwhile elements of Valentine's Day? Take a cue from @summersweetpastries on TikTok and bake a snarky candy heart cake with a message that strays from the ordinary. Summer went with "Ur The Worst" and a sarcastic smiley face, but there's a whole world of delightfully snide possibilities to choose from. Plus, you get to eat cake when you're finished!
5. "Ew, Valentine's Day" jewelry dish
Shifting away from romantic vibes on Valentine's Day doesn't mean you can't appreciate the holiday's color scheme. If you're more of a "Singles Awareness Day" person, check out this witty and adorable handmade resin jewelry dish from The High Escape on Etsy. It's got just the right amount of snark mixed with pretty pink and a dash of sparkle, making it the perfect place to store any friendship jewelry your pals gift you on Galentine's Day!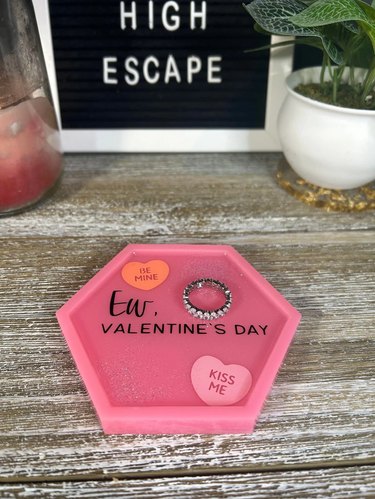 6. Empowering heart piñatas
Here's where you truly get to embrace your inner Jennifer Garner or Jessica Biel in ‌Valentine's Day‌. If you're just not a Valentine's Day person, smashing a heart piñata like the one musician and TikToker @cassiedasilva created is the perfect way to have a cathartic blast while celebrating your departure from holiday norms. Cassie's piñata is made with cardboard, tape, glue and plenty of tissue paper fringe—no papier-mâché necessary. Put on your most empowering playlist and break some (piñata) hearts!
Bored with standard heart cookies and boxes of chocolate? Defying Valentine's Day traditions doesn't mean you can't indulge in some delicious sweet treats like these "This Blows" cookies from cookie-maker @flourpowerabq on TikTok. You don't need expert skills to get creative with your not-so-romantic baked goods, so hit the kitchen and mix up some deliciously sarcastic treats.
Whatever your reason for not being madly in love with February 14, we hope our out-of-the-box Valentine's Day ideas will help you plan a fun "love stinks" get-together or create new seasonal memories with a twist. Grab your besties and get started—you've got plenty of sweetly snarky projects to tackle!