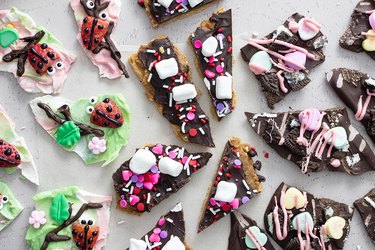 With Valentine's Day around the corner, it's time to treat your sweetheart to, well, sweet treats! Chocolate and candy bark are wonderful options, as they're easy to make and endlessly customizable. Simply spread melted chocolate or candy wafers on a baking sheet and add your favorite toppings. Once set, the bark is ready for gifting and (most importantly) eating!
If you need a little inspiration to get started, you've come to the right place. We created three Valentine's Day bark varieties that are equal parts pretty and tasty: Oreo Candy Heart Chocolate Bark, Graham Cracker Toffee Bark and "Lovebug" Candy Bark, which features ladybug strawberries and chocolate twigs.
Each recipe creates the perfect amount for one or two people, though you can easily double or triple the ingredients for additional servings—after all, everyone will be asking for a bite once they see these delicious and adorable concoctions! Read on for all you need to know about crafting Valentine's Day bark along with tips for making each recipe your own.
Recipe 1: Oreo Candy Heart Chocolate Bark
Things You'll Need
2 cups chocolate chips or chopped chocolate

6 Oreo cookies, crushed

1/2 cup candy hearts

Pink candy melts


Squeeze bottle or piping bag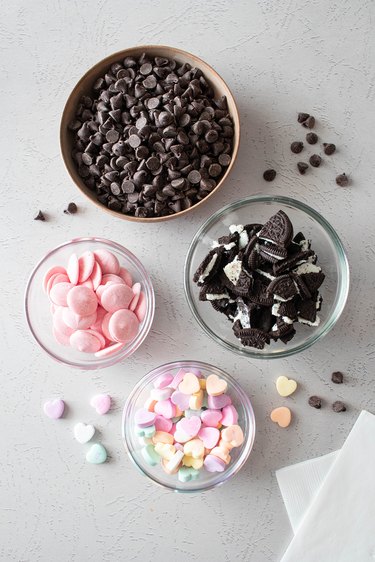 Tip
Feel free to use any type of chocolate—i.e., dark chocolate, semisweet chocolate, milk chocolate or white chocolate. You can even mix and match different kinds for a fun twist. Regardless of which type you choose, opt for quality chocolate to ensure great flavor and texture.
How to make Oreo Candy Heart Chocolate Bark:
1. Melt and spread chocolate
Line a quarter baking sheet with parchment paper. Melt the chocolate in the microwave or on the stove top. To use the microwave method, place the chocolate in a microwave-safe bowl and warm at high heat for 60 seconds. Mix and heat at 30-second intervals, stirring between each interval. To use the stove top, make a double boiler using a small pot, stainless steel bowl and water.
Spread the melted chocolate on parchment paper.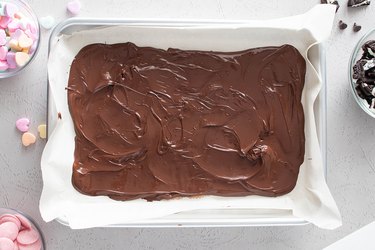 2. Add toppings to chocolate bark
While the chocolate is still warm, sprinkle crushed Oreos and candy hearts on top. Gently press both ingredients into the chocolate.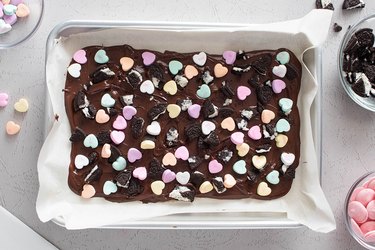 Melt pink candy melts in the microwave or by using a double boiler. (Be sure to check the candy melts' packaging for specific instructions before diving in.) Load melted candy into a squeeze bottle and drizzle it onto the chocolate bark. Alternatively, use a piping bag for the same effect.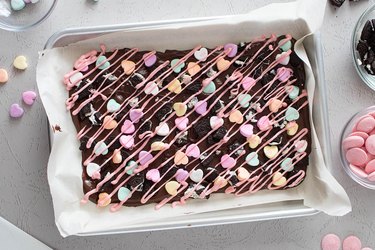 Tip
To switch things up, try adding dried fruit, like cranberries or chopped apricots. You can also drizzle warm peanut butter instead of melted pink candy.
3. Break into pieces and enjoy
Let the Oreo chocolate bark harden at room temperature for two hours. If you're in a rush, chill it in the refrigerator for 30 minutes. Once set, break the bark into pieces.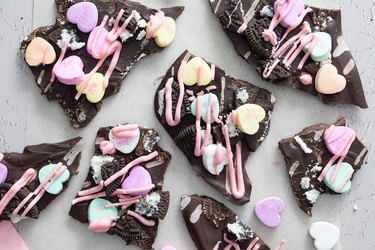 Store it in an airtight container, like a heart-shaped tin or decorative Pyrex dish. Your homemade chocolate bark with Oreos and candy hearts is ready for Valentine's Day!
Recipe 2: Graham Cracker Toffee Bark
Things You'll Need
6 graham cracker sheets

1/2 cup brown sugar

1/2 cup unsalted butter (1 stick)

3/4 cup mini chocolate chips

Valentine's Day sprinkles, candies or other toppings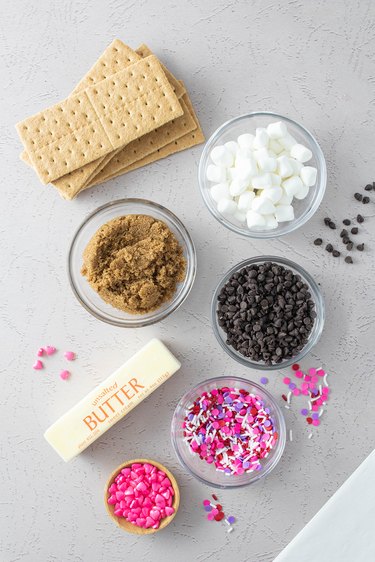 How to make Graham Cracker Toffee Bark:
1. Bake graham cracker toffee
This chocolate bark recipe is unique in that it features a graham cracker crust. First, line a quarter sheet pan with parchment paper. Preheat the oven to 350° F. Arrange six full graham crackers on top and set aside.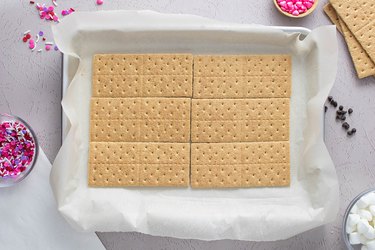 Cut a stick of butter into slices. In a small pan over medium heat, add brown sugar and butter. Bring it to a boil and then let it simmer for five minutes while mixing frequently until smooth and combined. The mixture will bubble and froth as it cooks.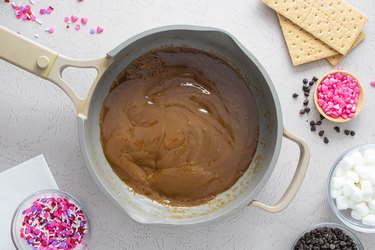 Spread the toffee mixture onto the graham crackers in an even layer. If the mixture hardens before you're finished, simply scrape the toffee along the thicker spots and relocate it as needed. Bake for eight minutes.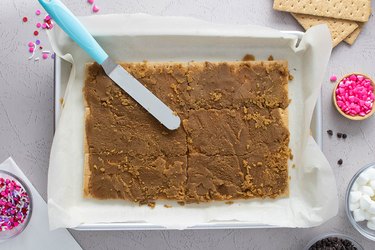 2. Add chocolate and Valentine's Day toppings to bark
Remove the sheet pan from the oven and immediately add a thin layer of chocolate chips on top. Heat from the toffee will melt the chocolate, which you can spread with an offset spatula.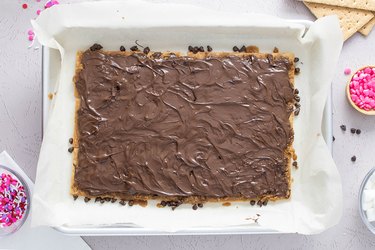 Tip
We recommend using mini chocolate chips if possible. Their smaller size will allow the chocolate to melt quickly. If you want to use regular chocolate chips or chocolate chunks, consider chopping them first.
While the chocolate is warm, add mini marshmallows, festive sprinkles and heart-shaped candies on top. Other mouthwatering options include chopped cashews, pecans, pretzels, sea salt or even brownie pieces.
Let it sit at room temperature for two hours or 30 minutes in the refrigerator.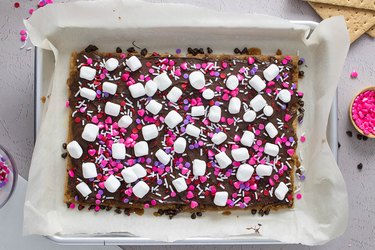 3. Break bark into pieces
Once set, break the bark into pieces. Store your Valentine's Day chocolate bark in an airtight container.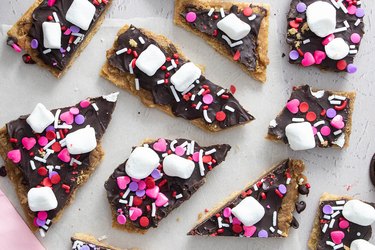 Recipe 3: "Lovebug" Candy Bark
Things You'll Need
1 cup pink candy melts

1 cup green candy melts

1 cup white candy melts

Small strawberries, halved

Chocolate chips, for melting

Black royal icing (or more melted chocolate)

Flower and leaf icing decorations or sprinkles

Mini candy eyes

Squeeze bottle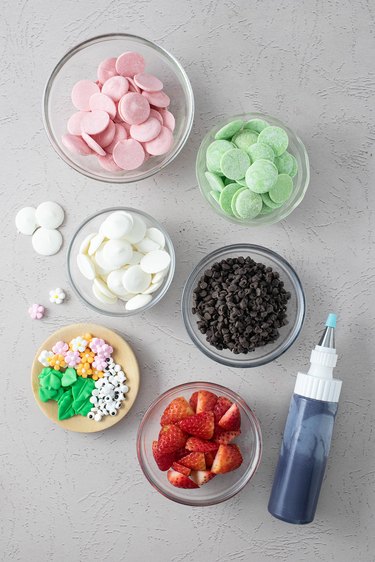 Tip
For pink and green candy melts, both pastel and dark versions work well. Choose the shade that you like best! You can also use beige or ivory candy melts instead of white.
How to make "Lovebug" Candy Bark: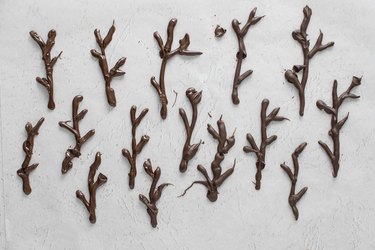 The first step is to make chocolate branches. This will ensure that they're ready when it's time to decorate the bark. Melt the chocolate in the microwave or by using a double boiler. Transfer melted chocolate into a squeeze bottle and then pipe simple branches onto parchment or wax paper. Don't worry about making them look perfect! They should appear organic and natural.
Place the chocolate twigs in the refrigerator to cool.
Preheat the oven to 180° F. Line a quarter sheet pan with parchment paper. Arrange the candy melts in an even, single layer.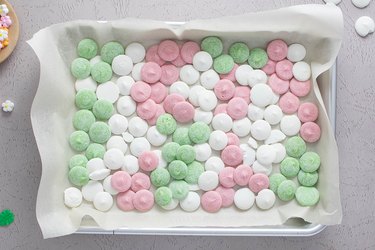 Heat for 10 to 15 minutes or until the melted wafers are spreadable. Use an offset spatula or butter knife to blend and swirl candy melts together. Be sure to frequently wipe down the spatula with a clean paper towel—this will prevent colors from blending too much and appearing "muddy."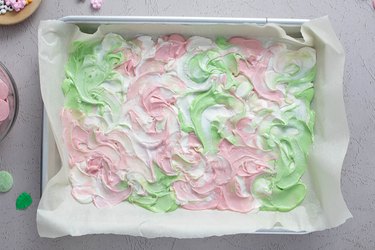 It's worth noting that heating candy melts in the oven is a nontraditional technique, as they're usually melted in the microwave or on the stove top. However, the oven method is useful if you don't have a microwave or multiple pots. That being said, it's important to avoid overheating candy melts, which can cause them to seize (become thick, dull and un-stirrable). Check the candy melts regularly and remove them as soon as they're spreadable.
Tip
If you'd like to use a microwave, check the product's packaging for specific instructions. You will likely need to place the candy melts in separate heatproof bowls (divided by color) and heat in 30-second increments. Next, spread the melted candy onto parchment paper and swirl together.
3. Add "lovebug" toppings to bark
While the candy is still warm, add chocolate twigs. Follow with icing flowers and leaves. Let it sit at room temperature until hardened, approximately one to two hours. The total hardening time will depend on the temperature of your kitchen.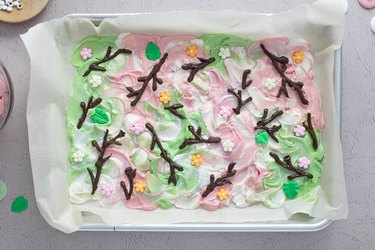 Using a large knife, carefully break the bark around the twigs. Try to keep them intact.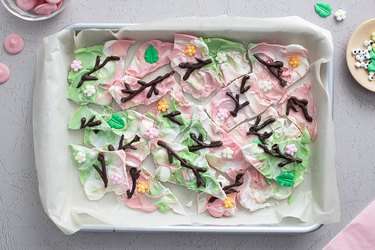 Tip
Since this Valentine's Day bark recipe has larger decorations that look better when placed together, we recommend breaking the bark around the twigs first and ‌then‌ adding the remaining toppings.
Using a bit of royal icing, attach a strawberry half near each twig. Pipe a line down the middle and then add a few dots. Stick on two candy eyes with dots of royal icing and you've got tasty little "lovebugs"!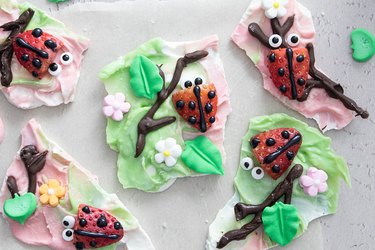 Tip
For a twist, make marbled white chocolate bark—but bear in mind that white chocolate is tricky to dye. So, if you want to make our "lovebug" candy bark with white chocolate, you'll need to use oil-based or powdered food coloring. Avoid using gel food coloring, which will cause white chocolate to seize due to its moisture content.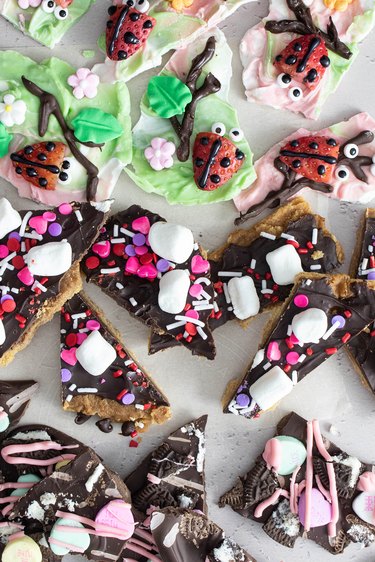 Whether you're spending Valentine's Day with your significant other, your best friend or even by yourself, sweeten things up with one (or all three!) of these tasty chocolate bark recipes.