If you're a food lover, you're likely already familiar with charcuterie boards, cheese boards and candy boards. But butter boards are a new sensation taking over social media, particularly TikTok. For those unfamiliar, a butter board consists of—you guessed it—a large amount of salted butter topped with other ingredients and seasonings. You can then dip whatever you'd like in the butter mixture, including warm, crusty bread. Yummmm.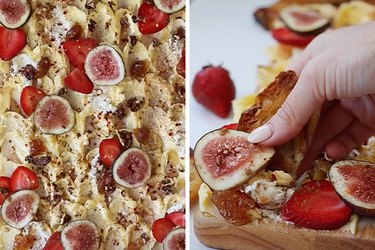 The origins of this trend have been traced back to chef Joshua McFadden, who co-wrote the cookbook ‌Six Seasons: A New Way With Vegetables‌, in which a butter board recipe appears. Now, TikTok creators have come up with countless variations that include anything from lemon zest to edible flowers. But any viral butter board must contain two elements: a surprising amount of salted butter atop some form of wooden board.
Tip
And if you're not a big butter fan? No worries. You can try the TikTok butter board trend with basically anything spreadable—hummus, peanut butter or chocolate hazelnut spread. The sky's the limit!
TikTok user @samischnur, who created a particularly delicious-looking version of the TikTok trend, said this of butter boards: "Think of a charcuterie board but for butter." Their take on the new trend includes butter, flaky salt, goat cheese, fig jam, fresh figs, strawberries, honey, red pepper flakes, cinnamon and crushed walnuts. They finish off the video by dipping some crispy sourdough bread into the mixture, making everyone's mouth water in the process. They also made their butter board unique by adding the butter in a scalloped pattern, shaping the butter almost like frosting.
Tip
Be sure to leave your salted butter out for an hour or so before creating your butter board. This way, the butter will soften enough to be malleable but won't melt as it would in the microwave if you tried to soften it quickly.
Recipe developer Justine Doiron, aka @justine_snacks, recommends adding "tons of flaky salt" and "tons of lemon zest" to create the base of your butter board. She adds edible flowers to hers but recommends using any toppings and herbs that you like. She also highlights the intention behind the trend, noting that "it just feels really communal."
So, if you're looking for a cozy appetizer to share with friends and family this fall, grab some butter, sea salt, warm bread and your favorite toppings. With all the press that the butter board trend has churned up, it's definitely worth a try—and a dip!