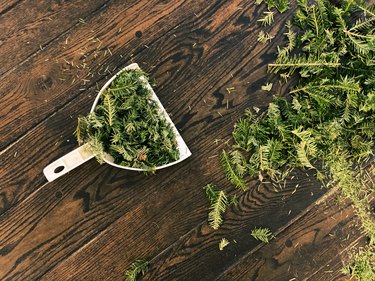 It's one of the holiday season's most perplexing questions: Which is superior, an artificial Christmas tree or a natural Christmas tree? Many of us opt for artificial trees, which are convenient and can be reused year after year. Recently, though, the pendulum has swung back toward natural trees.
There's a lot to like about going natural. For one thing, artificial trees are made of plastic (something most of us are trying to use less of), while natural trees help sequester carbon (something we're trying to do ‌more‌ of). Also, natural Christmas trees just plain smell great!
Perhaps the most underrated advantage of a natural tree, though, is its ability to be repurposed, recycled or upcycled in a number of useful, creative ways. We've picked out a dozen great options to get you started—plus a few more that are just practical.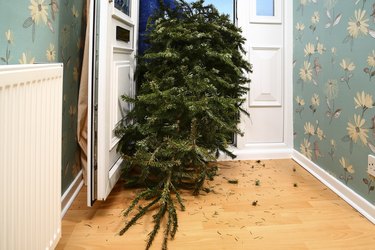 Part 1: Outdoor Options for Christmas Trees
There are many ways to give a natural Christmas tree (of any size or species) new life outdoors after the holidays. Some options require more work than others, but they're all worth trying—and you can even use your tree for more than one. Just be diligent about removing any tinsel or other old decorations first, lest they litter up the landscape or endanger local wildlife. Here are some ways to use your Christmas tree in your yard or backyard: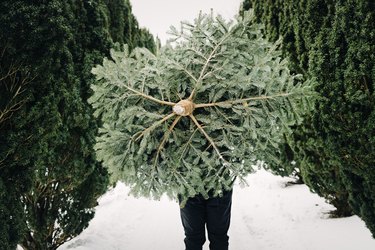 This is the easiest way to reuse your tree. Bring it out to the yard and lay it down or stand it up to create a habitat for birds and other small creatures during winter months. That's all it takes! In spring, when the natural world comes back to life and shelter for wildlife isn't as crucial, you can discard or repurpose it.
2. Turn your tree into a feeder
Take the simple "put your tree outside" option to another level by turning it into a bird feeder. Hang commercial seed or suet feeders from its branches or simply coat branches with peanut butter topped with grain, chopped nuts or birdseed. (Pro tip: Do this ‌after‌ you've hauled your tree outside.) Alternatively, if you've already decided on another use for part of your tree, hollow out branches and pack them with peanut butter or suet to make smaller bird feeders to hang around your house, porch or yard.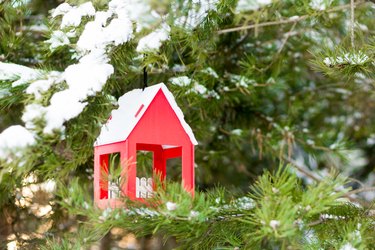 3. Protect garden beds with branches
The thick, bushy branches of evergreen trees make a great protective cover for perennials. Simply arrange them atop your beds, where they'll help insulate bulbs and roots that create next year's flowers (or asparagus, for that matter). You can also stand the branches around a central support, like a tomato cage, to provide a tentlike protective structure that keeps icy weather away from small shrubs or tree saplings.
Christmas tree branches technically become a "mulch" of sorts when you use them as is to protect garden beds, but having the whole tree chipped into mulch takes the idea a step further. Some municipalities and businesses will do this for free or for a modest price in the weeks after the holidays—or you can ‌chip‌ in with your neighbors (see what we did there?) to hire an arborist or rent a wood chipper. Wood chips are perfect for pathways or mulching around trees and beds. Don't forget that pine needles make an especially excellent mulch for plants like blueberries that favor slightly acidic soil.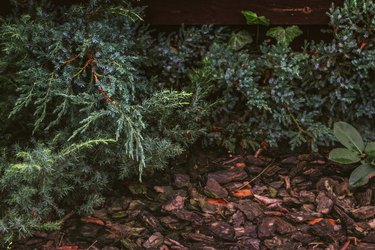 If your tree has a sturdy trunk, consider removing the limbs and cutting the trunk itself into slices (a couple of inches thick should do). These slices become organic "tiles" that can be used for decorative edging along beds or walkways. You might even use them to pave a dry pathway through mud-prone garden areas. They're attractive and—unlike conventional hardscaping materials such as concrete—biodegradable.
6. Make a "hugelkultur" bed
Many gardeners are fans of ‌hugelkultur‌ (sometimes Anglicized to "hugelculture"), which means creating a faux forest-floor garden by mounding soil over trees and branches. As wood breaks down slowly over time, these nutrients (and the tree's moisture) help feed plants and enrich soil. To start your own, strip branches from your tree and place the trunk in your desired spot. Cover it with the largest branches and fill in remaining spaces with smaller branches and twigs. When the ground thaws come spring, consider adding extra materials (wood chips, straw, dead leaves, anything you've got) and mounding soil on top. Alternatively, plant seeds or seedlings into the soil itself.
Part 2: Indoor Options for Christmas Trees
Your yard and garden aren't the only places to recycle a tree, of course. There are plenty of creative, decorative uses for a Christmas tree past its prime. Consider these options for giving your tree new life indoors: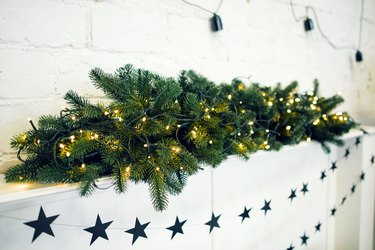 1. Use boughs for decorative swags
The holidays are only the start of the winter season, so consider turning your tree's boughs into a number of seasonally appropriate decorations. One of the simplest options (no wreath-making skills required) is to transform boughs into decorative swags for windowsills, porch railings, doors or even the mantel of a (non-woodburning) fireplace.
You need only a few branches of roughly equal size and bushiness that look good together and something pretty to anchor them in the center: A clove-stuffed orange, pinecones, a flickering faux candle, dried sprigs of holly berries or even a colorful pillar candle that will never be lit are all good options. Open flames and dry branches are emphatically ‌not‌ a good combination, so be sure everyone knows the candle is for looks alone.
There are multiple ways to turn Christmas tree sections into candleholders. One is to cut cylindrical pieces from a large branch or the upper trunk, strip the bark (or leave it on for a rustic appearance) and drill a hole large enough to fit a candle. Let the wood dry for a few months, then seal it with a suitable varnish so any critters inside will stay inside. Alternatively, choose a larger branch that's stable when laid horizontally and drill evenly spaced holes along its length. Regular taper candles work best here, but battery-operated faux tea lights are also an option. Just don't use regular tea lights or let a candle burn down to the wood, because—again—that's a fire hazard.
3. Construct a rustic coat or hat rack
There will be several spots on your Christmas tree where branches have, well...branched, creating sections that can be cut to an appropriate size for use as a hat or coat rack. Strip bark from the pieces and let them cure for a few months, then mount them to a plank and attach the entire assembly to a suitable wall. It's a natural-looking decorative element that's practical as well.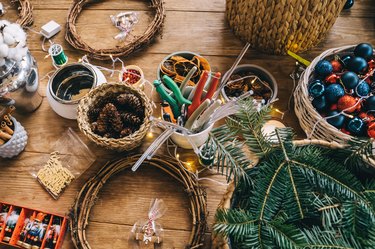 Remember when we talked about slicing your tree into pieces for decorative outdoor use? You can do the same indoors! The slices won't need to be as thick—one inch is plenty—and a bit of unevenness from one slice to the next only adds to their rustic charm. Leave them to cure for a few months (bark on or off, depending on the look you're going for), then sand them smooth (or not) and finish with varnish. Now you can arrange them into a wall hanging or decorative border for a mirror, photo or piece of art. Feeling ambitious? Use them to construct a large-scale headboard or feature wall. Leftover discs can even be used as coasters for your drinks!
5. Create diagonal slices for starburst or flower patterns
Your tree slices don't have to be all round, either. You can cut them diagonally, yielding long baguette-like slices, for elliptical pieces that are more polished and less rustic in appearance. By arranging big slices from the mid-trunk with smaller slices from branches and thinner areas at the top of the trunk, you can create striking DIY wall art in starburst or floral patterns. Natural variations in wood grain add visual interest—and you can mix things up further by using different stains on slices of varying sizes.
6. Prepare next year's decorations
Larger and smaller pieces of branches and twigs can become next year's whimsical decorations with a bit of creativity (and a glue gun). To make a charming wood reindeer, for example, you'll need two larger pieces for the head and body and seven more to make the legs, tail and head. For a jolly gnome, shave away enough of bark on one side to draw or paint a face, then top it with a hat (and beard, of course!). Paint, stain or sear holiday designs into wood pieces, and drill small holes to hang them from next year's tree.
Part 3: Christmas Tree Disposal Tips & Tricks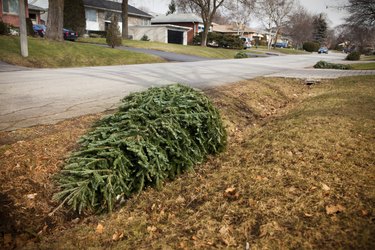 We'd all love to do Instagram-worthy things with our trees, but it's not always in the cards. By the time the holiday season winds down, you might find that putting away the tree stand drains your last bit of energy. That still doesn't necessarily mean your tree has to go to the local landfill. In most areas, there are other options.
Many municipalities offer some form of Christmas tree recycling, which typically happens in mid-January. Some jurisdictions (or even trash-collection companies) offer curbside pickup on specified dates, while others will accept trees at a number of drop-off locations. Trees are usually chipped for mulch and added to municipal compost piles or scattered on public flower beds. Some local businesses might set up their own recycling centers for trees as a community service and arrange for them to be chipped privately.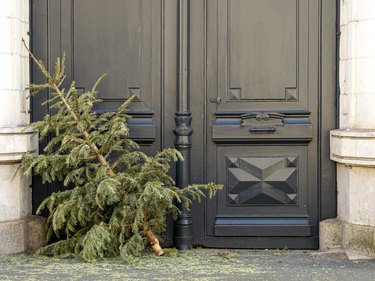 Burning your tree is another option, though this is more complex than it appears at first blush. For one thing, all the carbon sequestered by the tree while it was growing will be released when it burns. A more immediate concern is that Christmas trees are filled with pitch (a type of sap) that turns to creosote (a probable carcinogen) when burned in a wood stove or fireplace. Creosote buildup in your chimney could lead to a devastating house fire, so it's best to steer clear. If you're set on having a fire—which is admittedly pleasant on a cold winter's night—have it in an outdoor fire pit, instead.
Christmas trees are a symbol of joy and beauty for those who celebrate. Don't let their magic end when the holidays are over—instead, consider transforming your tree into something new and entirely wonderful this year.