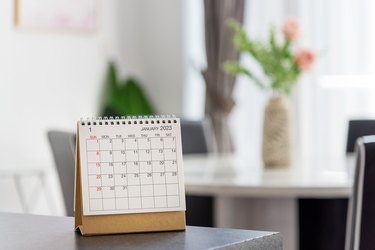 There's something soothing about a wall calendar. Unlike a digital calendar, which is ever-changing yet indisputably crucial to everyday life, a paper calendar feels calmer and more permanent. Plus, with so many pretty designs out there—from personalized ones with your favorite family photos to inspiring travel-themed calendars to beautiful botanical options—a wall calendar deserves a front-and-center spot in your home.
How about in the kitchen, where the whole family can see that the kiddos are out of school next Friday or where everyone can be reminded of grandma's birthday? Or perhaps a wall calendar would be useful in your home office, where you can mark important meetings and deadlines. A mudroom is another prime place to hang a wall calendar, so you can glance at it before heading out the door.
Even if you miss that deadline, at the very least a wall calendar is nice to look at and gives you the semblance of being organized throughout all of 2023. (Just don't miss grandma's birthday…) Plus, there's nothing—nothing!—quite like the feeling of flipping over to a new month.
What To Consider When Buying a Wall Calendar
‌Where and How You'll Hang It:‌ Most wall calendars are made with high-quality paper on a spiral binding. This makes them lightweight and easy to hang with the help of a single nail. Before you buy a calendar though, make sure the space you envision hanging it on is nail-friendly and also (of course) that it fits. Break out the tape measure so there are no surprises once the calendar arrives on your doorstep.
‌Customization:‌ A wall calendar is a great place to show off your family's cute-as-can-be faces. If you're interested in a personalized calendar, there are plenty of sites (like Papier, Artifact Uprising and Minted) that let you easily upload photos and arrange them however you'd like, no Photoshop skills necessary.
‌If You Can Write On It:‌ Some wall calendars are meant to be written on, filling in birthdays, weddings, field trips and other important events so you can see them at a glance. Other wall calendars are more for show, adding a dose of color and cool design to your space while neatly displaying the days of the month, so you know that Valentine's Day lands on a Tuesday or somehow it's the 25th of the month already. Which type of calendar you opt for is purely personal preference.
Scroll on for 10 of the best 2023 wall calendars that will have you feeling organized and excited for the new year ahead.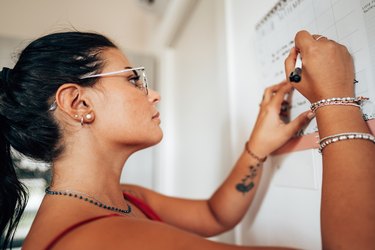 The Best Wall Calendar That Doubles as Art
We're simultaneously relaxed and invigorated just looking at this '70s cool wall calendar. The abstract sunset and mountain scenes would make for a colorful addition to any wall in your home. This calendar doesn't include holidays, so you can scribble in which ones you celebrate alongside birthdays, vacations and your mammogram appointment. Note that on this calendar the weeks start with Monday (how European!), so if that's not for you, keep scrolling.
The Best Wall Calendar for Travel Enthusiasts
Whether or not you have a Tuscan road trip planned for spring, this travel-themed wall calendar is inspiring for all. It's colorful, playful and a perfect housewarming, holiday or just because gift. Then, come the end of 2023, you can repurpose each of these as prints, framing a few of your favorites. The vibrant hues and scenic pictures just might encourage you to add both this calendar and a flight to your online shopping carts.
The Best Wall Calendar for a Kitchen
All things Rifle Paper Co., including this spiral-bound wall calendar, are a delight. This design would be particularly fitting in a kitchen though, since each month features an illustration of fresh fruit. This calendar does not include spots to write in notes and important dates, but is ideal for an eye-catching way to see what day of the month it is—and a reminder to grab a banana as you're running out the door in the morning.
The Best Inspirational Wall Calendar
This wall calendar will give you the extra nudge you may need to do good this year. Each month is illustrated with its corresponding bird and flower and includes a scratch-off that'll challenge you to complete a (very doable!) meaningful act of kindness each month. After accomplishing the good deed challenge, you can fill in the journal space on each page, noting how it felt to do it. Plus, who doesn't love a scratch-off? They're so satisfying.
The Best Reusable Wall Calendar
For a calendar you can use all of 2023 and for years to come, opt for a wall-mounted chalkboard design. It allows you to fill in the dates and all of your important events for each month without needing to buy a new one each year. It's also magnetic, so you can pin save the dates, baby shower invitations or field trip permission slips on it too. This calendar comes in a distressed farmhouse-style frame that can easily blend into the decor of your kitchen, mudroom or office, so it's an easy "add to cart" decision.
The Best Wall Calendar for Family Photos
Go ahead, show off your family's adorable faces with a personalized photo calendar. This one from Papier offers a variety of photo layouts, so you can feature one standout pic or create a collage of two, four or six. This calendar doesn't mark national holidays, making for a cleaner page and allowing you to fill in which ones you celebrate. It also makes for a great gift for grandparents. (Hint, hint.)
The Best Wall Calendar for Minimalists
For mid-century but also oh-so-modern home pieces, Schoolhouse has it all—including this cleanly designed minimalist wall calendar. This one features 12 months of tear-off sheets with a spacious notes section that'll fit all the thoughts, appointments and important dates you don't want to forget. Either hang it on a wall where the whole family can see it or keep this calendar deskside so you'll always know when you scheduled that oil change.
The Best Wall Calendar for Outdoor Adventurers
This National Park wall calendar, which features a dozen of the most beloved parks and their wildlife, is a perfect match for the adventurous, outdoorsy, camping lovers—whether for yourself or as a stocking stuffer for a loved one. Come December 31, 2023, you'll want to rip out your favorite illustrations and frame them as inspiration to get out and explore.
The Best Oversized Wall Calendar
This design is part wall calendar and part art. It measures 9.5 inches by 17.25 inches, so you'll need a fair amount of vertical space to hang it, but it's worth the wall real estate. It has a sleek design that would add a dose of color and elegance to wherever you hang it. Mark all of your important dates and jot down any reminders in the notes section too. Since it's made of ultra-high-quality cardstock, you can rest assured that your pen marks won't bleed through.
The Best Wall Calendar for Green Thumbs
It doesn't matter whether you're a proud plant parent or can't keep a single succulent alive. This wall calendar could be a perfect colorful, lighthearted, neatly designed fit for your home. This one doesn't leave space for notes, but it brings plenty of vibrancy and life to a space. Even if your monstera is knocking on death's door, at least you can add some greenery through your calendar.