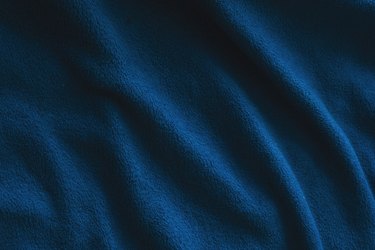 There's something so satisfying about making your own DIY home decor. And, this couldn't be more true than when the craft project results in an ultra-warm and cozy item, such as a blanket. If you've always wanted to make your own blanket but don't sew or crochet, no-sew fleece blankets are the solution. Since these throw blankets are made without stitching or adhesives of any kind and, instead, require cutting the edges of fleece fabric into strips and tying them together to join, this craft project boasts a ton of accessibility for all skill levels (and most ages, too!).
No-sew fleece blanket kits come with everything needed to give this beginner-friendly craft a try, including fleece fabric cut to the right size and, depending on the craft kit, precut edges, too. Whether you're looking for sewing projects that are easy and result in something functional or want to find a gift the crafty person in your life will appreciate, you can't go wrong with no-sew fleece blanket kits.
Up ahead, find our top picks for the best fleece throw blanket kits, plus the most important things to consider when looking for a no-sew fleece blanket kit to try.
What to Consider When Shopping for No-Sew Blanket Kits
‌Supplies:‌ When shopping for any craft kit—including a fleece blanket kit—it's always important to take note of the included items and any additional supplies you might need to complete the fleece throw blanket. For the most part, no-sew fleece blanket kits only come with fleece fabric for the front and back panels. Additional supplies include sharp fabric scissors (if the fleece fabric edges aren't precut) and batting if you wish to add some extra cushion to the no-sew fleece blanket.
‌Precut Sides:‌ Fleece throw blankets are super easy to make, no matter what your skill level is. If you're a beginner or looking for something even easier, shop for a craft kit that includes fleece fabric with precut sides—that way you don't have to cut each individual slit (and fuss about both sides matching up) yourself. With precut sides, you can layer the two fleece fabric pieces on top of each other and tie the edges together without any preliminary work.
Tip
If you purchase a kit without precut sides, consider investing in an acrylic pattern template like the Fleece Tie Blanket Acrylic Pattern Template from Etsy, which is designed to make cutting even strips much easier.
‌Style:‌ Typically, fleece throw blanket kits come with two pieces of fleece fabric with either precut sides or sides you need to cut on your own to connect them. However, some craft kits—such as the ​​Melissa & Doug Created by Me! Flower Fleece Quilt—take a more quilted approach and come with smaller pieces of fleece in square shapes. In addition to the blanket style, also consider the fleece fabric style. The no-sew throw fleece fabric blanket usually has one solid side and one printed side, which can be anything from floral to plaid to rainbows to tie-dye.
‌Fleece Fabric:‌ Consider the quality of the fleece fabric, too. If you're concerned about pilling, opt for a kit that has anti-pill fleece fabric. And, if you want a warmer blanket, consider craft kits with polar fleece, which is a thicker and warmer fleece material and, therefore, results in a super warm fleece tie blanket.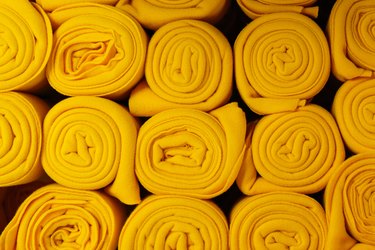 1. Melissa & Doug Created by Me! Flower Fleece Quilt
This adorable shaggy blanket kit is an excellent choice for kids and adults alike. The Melissa & Doug Created by Me! Flower Fleece Quilt comes with everything needed to create a cozy no-sew fleece blanket, including 48 12-by-12-inch fleece squares with precut fringe for tying in place. The fun part about this kit is that the design is customizable—create a striped blanket with rows of matching fabric, alternate the fabric designs, or create your own unique pattern.
2. Forest 72" No-Sew Throw
No-sew fleece blankets aren't just for kids—they make gorgeous adult blankets, too. For something a little more grown up, consider the Forest 72-inch No-Sew Throw from JOANN, which features a festive winter scene, complete with different evergreen trees, a snowy cabin, and deer on one side and a print of different pine trees on the other. The kit comes with two large pieces of polyester fleece fabric with precut edges for a super-easy and fun craft project.
3. Sinmeey No-Sew Fleece Blanket Kit
Get kids in the crafting spirit with this no-sew fleece blanket kit from Amazon. The blanket is designed for kids ages 8 and older and is inspired by a quilted design. It comes with everything needed—including a step-by-step tutorial—to create a color block pattern, plus attach fun appliques to the squares for added flair with little adult assistance, too.
4. Mushrooms 72" No-Sew Throw
Mushrooms are one of the biggest craft trends of the year, and they also shine as home decor, too. For a stylish craft project, consider this Mushrooms 72-inch No-Sew Throw from JOANN, which features one large piece of flannel material with different types of mushrooms printed on top and a matching plaid flannel fabric piece for the back. Each fabric cut comes with precut edges, too, making this project even easier.
Similar to mushrooms, tie-dye also continues to reign as a top craft trend style. For a stylish and fun fleece no-sew blanket project, consider the Tie Dye Anti-Pill Premium Fleece Fabric No-Sew Throw Kit from Etsy. The under $20 craft kit comes with two pieces of anti-pill fleece fabric and the option to customize the solid fabric (which is used as the backside) in a color of your choice. While it doesn't come precut, it comes with a template that is easy to follow so you can get the perfect cut edges for tying.
6. Grow Your Own Way 48" No-Sew Throw
There's something so nostalgic about a no-sew tie blanket. With that in mind, we love this vintage-inspired design from JOANN. The Grow Your Own Way 48-inch No-Sew Throw features a printed orange no-pill fleece fabric piece with an adorable retro daisy and the message "Grow Your Own Way" on top, along with a fleece fabric piece with the matching daisy pattern on the back. It also comes pre-cut for easy assembly.
​​7. Dog Collars 72" No-Sew Throw
An excellent craft kit for the dog lover, this no-sewing project features fleece with cute dog collar illustrations on one side and monochromatic line art of dogs, collars, bones, and other puppy essentials on the other. Give it as a gift to a new dog parent, or make one for your own fur baby.
8. Large Floral Make It Give It 48" No-Sew Throw
Add a dose of color to your home decor with this adorable, retro-inspired daisy no-sew blanket kit. The Large Floral Make It Give It 48-inch No-Sew Throw kit from JOANN comes with two pieces of no-pill fleece material—one printed and one solid pink—with enough fabric to create either a throw blanket or a couple of scarves and a matching hat (if you want to get extra crafty).
9. Sinmeey No-Sew Fleece Blanket Mermaid Tail Blanket Kit
Most no-sew blankets feature a rectangle throw blanket design—but not this one. The Sinmeey No-Sew Fleece Blanket Mermaid Tail Blanket Kit from Amazon teaches kids and adults how to make a sleeping bag no-sew blanket, inspired by a mermaid tail. In addition to fleece fabric, the kit also comes with felt for the fins and adorable appliqué details, too.