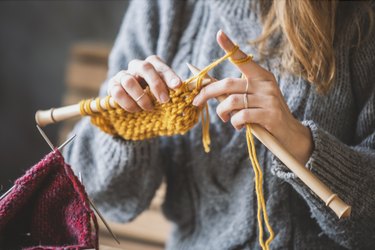 Crochet is one of my most sacred rituals. The repetitiveness of hooking and looping yarn together has a meditative effect on me that brings me a sense of calm with every yarn over, and it's something that I try to practice on a daily basis. I learned how to crochet following YouTube tutorials and, over time, began following crochet patterns for all sorts of projects, including blankets, sweaters, and the most adorable pug dog applique pattern that I attached to a granny square pillow for my mom. My favorite place to shop for DIY crochet patterns is Etsy, which is home to nearly 700,000 patterns created by fellow crocheters from around the world.
Etsy crochet patterns are fantastic because they are often digital downloads, which you can access instantly upon purchase. Most of them have detailed step-by-step instructions that are easy to follow as a beginner pattern reader (which is a skill in and of itself), too. In addition to beginner crochet projects, Etsy sellers also offer tons of fun project ideas for advanced beginners and intermediate crocheters, making it a great resource for fiber artists and makers.
Whether you're brand new at crochet or are looking for your next project idea, shopping for patterns on Etsy is a fantastic place to start. Up ahead, find the 11 best crochet patterns on Etsy.
What to Consider When Purchasing Crochet Patterns
‌Project Type:‌ Crochet patterns exist to give you crochet project ideas and teach you how to execute them—so, it's necessary to consider what you want to make before searching for the best crochet patterns. Blankets, beanies, headbands, sweaters and scarves are popular crochet projects, however, you can also make pillow covers, lace table runners, wall hangings and planter covers with some yarn and a hook. Knowing what you want to create ahead of time will help narrow your search and prevent decision fatigue when browsing all of the amazing patterns on Etsy.
‌Supplies Needed:‌ When shopping for crochet patterns on Etsy, look at the product descriptions to see what kinds of supplies are needed. Since these are digital downloads, you typically can't see any part of the pattern before purchasing, however, most pattern creators will share what supplies (e.g. size of crochet hook, yarn type, etc.) are needed to complete the project. If you have a specific type of yarn you'd like to use—such as a chunky yarn—you can also search for patterns specific to your supplies. For example, typing "chunky yarn crochet patterns" in the search bar on Etsy pulls up tons of fun results, such as this bulky winter blanket pattern and this twist headband pattern.
‌Skill Level:‌ Before purchasing and downloading a crochet pattern on Etsy, consider your crochet journey and what your skill level is. Having an understanding of your abilities is important when looking at projects and deciding which one is the best crochet pattern for you. If you're brand new at crochet, an intermediate pattern might frustrate and overwhelm you, which takes away from the relaxing experience of crochet. However, if you're a beginner with some more advanced skills, something a little trickier that is still beginner-friendly might be just the challenge you're looking for.
‌Time:‌ Crocheting takes ‌time‌ (and requires a lot of patience). If you want to make homemade crochet gifts or prefer not to spend a ton of time on a project, consider how long it might take to complete a pattern. Many patterns on Etsy note the time commitment, but projects themselves also inform that. For example, a crochet beanie is a fairly fast project (2-3 hours) compared to a full-sized crochet blanket, which could take weeks or even months to finish, depending on how much time you have to work each day. For quick crochet projects, consider things like headbands, scrunchies, coffee sleeves, coasters, and even small pouches like this granny square pouch pattern from Sew Happy Creative on Etsy.
‌Copyright Information:‌ If you plan on selling crochet items of your own and wish to use one of the patterns downloaded from Etsy, it's important to also look at the copyright information, which sellers typically put in the product description (this also applies to other marketplaces for crochet patterns, including Ravelry). The copyright information tells you how you can and can't use crochet patterns. While some allow you to create and sell work based on the patterns, others do not. The copyright information all depends on the creator of the pattern and can vary with paid-for and free crochet patterns. That said, many free crochet patterns do not allow for sales, while some paid-for options do.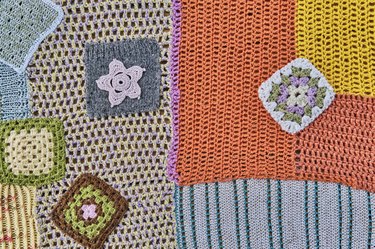 1. KreableKreates Adult Ribbed Crochet Beanie Pattern
Beanies are a staple crochet project and fun for beginner and advanced crocheters alike. This pattern shows you how to create a DIY ribbed beanie, which is very trendy right now. The unisex beanie requires a 5.5-millimeter crochet hook, 250 yards of size 4 worsted weight yarn, scissors and a tapestry needle to complete. Make one for yourself, or a few to give as gifts to friends and family!
2. The Loopy Lamb Enid's Snood Crochet Pattern
If you're a fan of ‌Wednesday‌ on Netflix, you'll love this crochet pattern. Inspired by Enid's snood in the show—which is having a social media moment right now—this snood crochet pattern is beginner-friendly and designed to keep your head, ears and neck warm in the winter frost.
3. Kistcrochet Homespun Pillow Crochet Pattern
‌Level:‌ Advanced Beginner
For beginners who aren't brand new, try a more challenging project such as this Homespun Pillow Crochet Pattern. Designed for advanced beginners, the pillow pattern teaches you how to create some three-dimensional stitches to create a border and spell out the word "home." To make this project, you'll need size 4 worsted weight yarn, a 3.5-millimeter hook, polyfill, a tapestry needle, scissors and a measuring tape.
4. WILDWEREMAIN Retro Daisy Granny Square Pattern
For the granny square maker looking to make something a little more unique, try your hand (and your hook) at the Retro Daisy Granny Square Pattern from WILDWEREMAIN. The fun thing about this crochet project idea is that you can transform it into anything you want—be it a blanket, tote bag, pillow or scarf. You could even make a trendy granny square balaclava out of it.
5. Simply Made By Erin DIY Crochet Planter Pattern
‌Level:‌ Advanced Beginner
Crochet is a fun way to dress up your houseplants, and this advanced beginner project is the perfect entry into DIY crochet planters. Whether you're looking to make a sweater for your houseplant babies or need some crochet gift ideas, this fast crochet project is a good place to start. To follow the pattern, you'll need super bulky size 6 yarn and the crochet hook size that corresponds to your yarn (based on the packaging).
6. Teez Topperz Simple Crochet Slippers Pattern
As one of the coziest crafts ever, making slippers out of crochet stitches is a given. The Teez Topperz Simple Crochet Slippers Pattern is simple enough for beginners, but also a fun project for advanced crocheters who are looking for handmade gift ideas. The pattern calls for 90 to 110 yards of bulky 5-weight yarn and a 9-millimeter hook, which means it's a fairly fast project to complete.
7. Sass and Stitch Crochet Puff Quilt Pattern
There's so much you can do with a crochet blanket—but this idea truly stands out. Inspired by a puffy quilt, the Sass and Stitch Crochet Puff Quilt Pattern teaches you how to make a crochet blanket out of worsted yarn scraps in an adorable puffy design.
8. MJs Off The Hook Designs Christmas Elf Hat Crochet Pattern
The holidays are the best excuse to cozy up and start a crochet project. For something festive, try the MJs Off The Hook Designs Christmas Elf Hat Crochet Pattern. Designed for beginner crocheters, this project teaches you how to make a whimsical Christmas hat in five different sizes (including baby and kid's sizes) from Bernat Softee Chunky yarn.
9. Mouse and Thimble Easy Plush Blanket Crochet Pattern
For a beginner-friendly blanket, try the Mouse and Thimble Easy Plush Blanket Crochet Pattern. This classic crochet blanket uses six skeins of Bernat Blanket Big Ball Yarn and an 11.5-millimeter hook. To create the blanket, you only need to know how to do a chain stitch, single crochet stitch and slip stitch, making it a good starter project.
10. Lanka by Lee Velma Sweater Crochet Pattern
Sweaters are a fun project to make and the crochet stitch always adds a beautiful texture. While the Lanka by Lee Velma Sweater Crochet Pattern is technically beginner-friendly, it's likely a better pick for someone with more advanced beginner or even intermediate skills, as making a crochet sweater can be tricky compared to beanies and scarves. This project calls for a 4-millimeter hook and a weight 3 or 4 yarn of your choice.
11. Love and Stitch Designs The Caroline Mug Rug Coaster Crochet Pattern
For a quick crochet project pattern, consider the Love and Stitch Designs The Caroline Mug Rug Coaster Crochet Pattern. These adorable coasters are designed to look like mini rugs and make the sweetest gifts for friends and family. The rugs call for weight 4 worsted cotton yarn, but you could easily make it out of any weight 4 yarn as it's a great scrap yarn project, too.