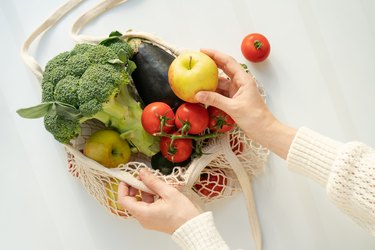 If you're looking to cut down on your plastic consumption, grocery shopping presents some good opportunities. You may very well already use tote bags or other reusable grocery bags so you don't have to rely on plastic shopping bags. These cloth bags are a great step toward being more environmentally friendly and buying your groceries and toiletries more sustainably.
And now you're researching your next step: reusable produce bags. It's another effective way to keep plastic waste out of the landfill. And, as an added bonus, you won't have to deal with the frustration of getting one of those plastic produce bags that's impossible to open.
The best reusable produce bags are a long-lasting convenience item that's well worth the investment. And they'll let you shop for fresh fruit and veggies with a clearer conscience—without the inconvenience of just skipping produce bags altogether.
Things to Consider When Purchasing Reusable Produce Bags
‌Material:‌ Many reusable produce bags are made from natural, biodegradable materials like cotton, muslin, linen and hemp. They're eco-friendly and breathable. Polyester and nylon are commonly used synthetic materials. They tend to be a little more durable, stretchier and lower priced, but they're not as environmentally friendly (though they're still a big improvement over single-use plastic bags). Most of these products can be cleaned easily in the washing machine, though many need to air dry.
‌Weave:‌ You'll choose from fine mesh to fairly wide netting. The weave density affects what you can use the bag for. Large netting won't hold your bulk beans, obviously. Also, the more open the weave, the more airflow that passes through the bag. Airflow can be a good thing or a bad thing. If you're storing produce outside the fridge—onions, tomatoes or potatoes, perhaps—they benefit from ample airflow. So do some refrigerated fruits and veggies, like citrus, apples and pears; however, many others need some protection from the dry refrigerator air. If you're storing your produce in the bag (rather than just transporting it home), the weave is a more important consideration.
‌Size and Quantity:‌ Reusable produce bags are typically sold in sets of assorted-sized bags, ranging from a few pieces to nine, 15 or more. Think about how many types of fruits and vegetables you usually buy on a trip to the grocery store or farmers' market, as well as how much of them you generally get. Look for a set to accommodate your main grocery runs, ideally with a few extra bags in case you need backups for larger purchases or to replace lost or damaged pieces.
‌Weight:‌ These products tend to be pretty lightweight, which is nice, especially if you're bringing a bunch of them with you on shopping excursions. But they weigh considerably more than disposable plastic produce bags. And you're usually charged for produce by the weight of your bag. Fortunately, most reusable produce bags have a tag with the tare weight. Cashiers can simply look at the tag and deduct the weight of the bag from the pricing weigh-in at checkout.
Along with budgetary considerations, these factors will help you select the best reusable produce bags for your needs.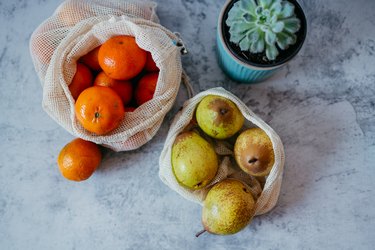 1. Lotus Sustainables Reusable Produce Bags, 5-Count
This affordable set of five 100% organic cotton zero-waste produce bags is a great buy. You get two small, two medium and one large bag with a tight enough mesh to hold any produce, but not so tight that they don't let their contents breathe. They're heavy-duty—each one is rated to hold up to 25 pounds—and they close with a strong drawstring with a wooden closing bead that ensures the bags stay closed. The three sizes have color-coded tabs, and the bags have convenient tare weight tags. Just toss these reusable bags into the washing machine to clean and let them air dry (which they do quickly); they're durable enough to survive hundreds of launderings.
2. Purifyou Reusable Produce Bags, 9-Count
Here's a set of nine raw organic food-safe cotton reusable produce bags sold at an excellent price point. They have double-stitched seams for extra strength and feature a mesh weave that'll contain just about anything while allowing a good amount of airflow. The fabric is surprisingly stretchable for the material, and the bags close securely with a drawstring and easy-glide steel closing bead. The practical set includes two large bags (17 by 12 inches), five medium bags (14 by 12 inches) and two small bags (8 by 12 inches). They're suitable for storing most produce in the fridge, with the exception of leafy greens.
3. Organic Cotton Mart Reusable Mesh Produce Bags, 3- or 6-Count
These double-stitched, durable bags come in several sizes, and you can buy them in various sets of three or six, so you shouldn't have trouble finding the right assortment for your needs. The set of two large (15 by 12 inches), two medium (12 by 10 inches) and two small (10 by 8 inches) bags is a good option. The breathable mesh holes are on the larger side, making these bags well-suited to room-temperature storage of fruit and veggies. They have tare weight labels, hassle-free drawstring closures, and they can be hand-washed in cold water and air-dried. And they're even packaged in 100% recycled paper.
4. Ecowaare Reusable Mesh Produce Bags, 15-Count
For a very budget-friendly option, check out these food-safe, BPA-free polyester mesh bags. Choose from two differently configured sets of 15: five small, five medium and five large bags, or three small, six medium and six large bags. They're quite lightweight and hold up to 10 pounds, with color-coding by size and a user-friendly drawstring toggle closure. The mesh is extra-fine, so you can use these bags for refrigerator storage, and they're also transparent so your produce will ring right up at the checkout scanner. Easy to wash by hand, they're also machine-washable.
5. Gogooda Reusable Produce Bags, 9- or 15-Count
Another highly affordable product that's available in a number of different set sizes and large-medium-small configurations, these BPA-free polyester ultra-fine mesh reusable produce bags are a great buy. They're transparent for easy barcode scanning at the register, and they do a good job protecting fresh produce in the fridge. These bags have color-coded, easy-to-use drawstring closures and tare weight tags, and they're simple to clean by hand or in the washing machine—just note that it's recommended that you close the toggle inside the bag during laundering.
6. Colony Co. Reusable Bulk Food Bags, 6-Count
If you're looking for organic cotton muslin reusable bulk produce storage bags, this affordable set of six pieces should appeal. The solidly woven but highly breathable bags are perfect for storing nuts, grains, cereals, dried beans and other unrefrigerated bulk produce. Fill them up at the bulk bins in the store, then pay easily thanks to the tare weight tag. You get two each of three sizes: large (15 by 12 inches), medium (12 by 10 inches) and small (10 by 8 inches). They close securely with a double drawstring, eliminating the need for a plastic or metal toggle. And you can put them in with your cold-water laundry, and even in the dryer on low/delicate (or just let them air dry).
7. Vejibag Produce Bags, 3-Count
For reusable produce bags that are excellent for storing produce in the refrigerator, consider this set of three. The bags may be a little pricey, but it's a great investment to reduce waste and keep your refrigerated fruits and vegetables fresher for longer. Made in the U.S. from unbleached 100% certified organic cotton, they're a healthy, sustainable way to preserve produce. These solidly woven sacks have a flap closure and an ideal balance of breathability and humidity retention to keep a wide range of produce crisp and vibrant for its maximum lifespan. Use them for leafy greens, too—something many other reusable produce bags aren't made for. Machine-wash and tumble dry.