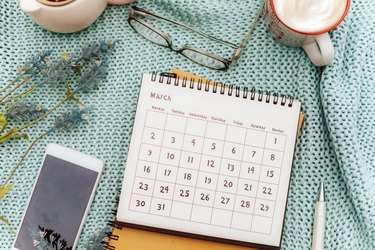 Is there any better feeling than crossing an item off your to-do list? (We say no.) While you may feel like you'd be lost without your virtual calendar, with baby showers being added, Zoom meetings being rescheduled, and a big reminder not to forget your sister's birthday, there's something refreshing about a good ol' fashion pen and paper planner. They give your eyes a break from so much screen time, they look professional and, again, is there any better feeling than crossing an item off your to-do list? The answer is still no.
With the new year on the horizon, now is the time to add a brand new 2023 planner to your online cart. Then, come January 1st, you can crack it open and start the new year off as organized as possible. There are plenty of 2023 planners and agendas on the market, but you'll want to choose the right planner for you since you'll be stuck with it for the next 12 months.
That's why we scoured the market for the prettiest, most organized and best planners that you'll feel proud to pull out of your purse or backpack. With one of these agendas by your side, you can check off that to-do list, track your goals and feel confident going into the new year. You'll never forget your sister's birthday either.
What to Consider When Buying a Planner
‌Dated or Undated:‌ Dated planners—ones specifically made for 2023 and only 2023—keep you on track, since you have to use it that year, month and week or the pages will be wasted. Undated planners offer you a bit more flexibility since you have all the features and tools of a dated planner, but you may lack the pressure to use it.
‌Extras:‌ Some planners are no frills; they simply lay out the year, months and weeks in a clear and concise way. For some, the cleaner the page, the clearer the mind. Other planners are bursting with fun add-ons, like stickers, drawing prompts or inspirational quotes. There's no right or wrong style; simply choose what inspires you more.
Ready to take on the new year in style? Scroll on for the best 2023 planners and agendas.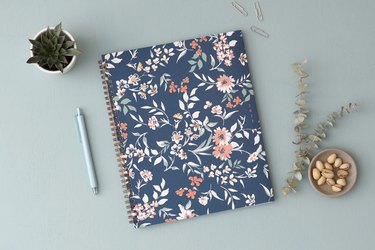 A Planner With a Helpful Reminder
The name of this ban.do-designed planner says it all: progress not perfection. Whatever progress you're working toward, the playful illustrations and colorful interior of this planner will help you get there. It includes year, month and week views as well as a laminated hardcover and color-coded month tabs. There are plenty of fun touches—this is ban.do, after all—like a coloring page, a pocket on the inside back cover and three sticker pages.
‌Dimensions:‌ 8" x 6.5"
‌Dates:‌ January 2023 - December 2023
A Perfectly Giftable Planner
You'll forget all about your digital calendar when you set your eyes on this sophisticated hardback planner from Papier. (Look at that gold ink! It's slightly raised and shimmers in the light.) There are pages for important dates and contacts, as well as a mix of blank, lined and dotted note pages. Each monthly page includes a "to see & do" column too. It comes in royal blue, forest green and maroon, and the paper is sourced from FSC-certified forests. Nab one for yourself or gift one to a particularly organized person in your life—or, better yet, do both.
‌Dimensions:‌ 8" x 6"
‌Dates:‌ November 2022 - December 2023
A Beautiful Yet Durable Planner
Rifle Paper Co.'s planners are a work of art. You'll want to throw this one in your purse just to show it off. You don't have to worry about it getting beat up in the unpredictable climate that is the inside of your purse either since the canvas cover is perfectly durable. This planner features monthly views with a column for notes as well as weekly pages with plenty of room to bullet point all of your daily to-dos.
‌Dimensions:‌ 9.5" x 7.5"
‌Dates:‌ January 2023 - December 2023
A 17-month Planner You Can Use Right Now
Here's betting you'll never leave home without this planner again. Not only does it feature a beautiful cover design, with an elegant botanical theme by Megan Galante, but it's ultra-organized with plenty of fun details like monthly tabs (so you can note your cousin's wedding next June and then your family's vacation in October with one flip) and sticker sheets. No need to wait until January 1st to use this one either; the 17-month planner's dates started in August.
‌Dimensions:‌ 8.5" x 7.5"
‌Dates:‌ August 2022 - December 2023
A Planner to Spark Your Creativity
If you're a fan of Adam JK's cheerful, encouraging work, you'll adore his new 2023 dated planner and journal. Designed in his perfectly imperfect handwriting, it encourages you to not be so precious with it, instead using it as a daily check-in with yourself to look forward to what is coming up next. There's just enough space to note your appointments and deadlines, as well as monthly writing and doodle prompts and, as Adam says, "tons of tiny reminders to help you through another year on this planet!" The only downside? You'll have to patiently wait until the new year to use it.
‌Dimensions:‌ 7.5" x 5.5"
‌Dates:‌ January 2023 - December 2023
For a minimalist planner, always (always!) opt for Moleskine. They've proven to be an all-in-one planner, calendar and spot to jot down your genius ideas. This planner, which is available in either a pocket or extra large size, features the elastic closure, matching ribbon bookmark and expandable inner pocket that are hallmarks of Moleskines. Urban Outfitters sells it in two vibrant hues, yellow or orange. It lays flat too, so you can compare your calendar with your bestie to determine your next happy hour without having to hold it open.
‌Dimensions:‌ 3.5" x 5.5" or 7.5" x 9.75"
‌Dates:‌ January 2023 - December 2023
A Planner With a Weekly Layout
If you have no need to see your month at a glance, but would prefer to hone in on week by week, this planner with a weekly layout is the one for you. The pages are thick enough that your pen won't bleed between pages. It's undated, so there's no need to wait until the calendar flips to 2023 to start using this planner. It breaks down each week in a simple way, with plenty of space to jot down all of your important meetings, reminders and checklists.
‌Dimensions:‌ 7.2" x 10.1"
‌Dates:‌ Undated
A Planner to Encourage Goal-Setting
This planner is more than a way to organize your day-to-day schedule. It's a way to work toward all of your 2023 dreams and visions. For the goal-setting among us, this planner transforms your goals, whether relationship-based, financial, career, health or otherwise, into actionable steps. Along with monthly overviews and daily and weekly planning pages, this planner also features over 20 pages of life coaching worksheets and task trackers. Go get 'em!
‌Dimensions:‌ 7.5" x 9"
‌Dates:‌ January 2023 - December 2023
A Planner With Hourly Scheduling
Don't be turned off by the price tag of this Day Designer planner—there's a reason it's so pricey. It's ‌that‌ good. With this planner, the best daily planner on the market, you'll get your day-to-day time management in control. The daily planning pages include hourly scheduling, from 5:00 a.m. to 9:00 p.m., as well as spots to jot down your to-dos, dinner plans, what you're grateful for, notes and more. Daily inspirational quotes will help you get through each day too. There are plenty of bonus features like sticker sheets, a bookmark rule, protective gold corners, a durable linen hardcover and gold foil-dated monthly tabs. It's worth the price—trust us.
‌Dimensions:‌ 7.3" x 9.5"
‌Dates:‌ January 2023 - December 2023
For no frills but a calm sense of wellness, nab one of these spiral-bound planners from Blue Sky. It features straightforward weekly pages, monthly calendars, full pages for notes and a storage pocket. It's made from sustainably-sourced materials including environmentally responsible paper, soy-based ink and recyclable elements. Stick with a planner throughout 2023 and you'll be feeling like your best self in no time.
‌Dimensions:‌ 8.5" x 11"
‌Dates:‌ January 2023 - December 2023